The Unmatchable Service
Whether you need a small spice pack or a big bag of powdered detergent, we all can pack it. KEFAI's powerful VFFS and pouch machine can pack almost all powder products. At the same time, our machines are clean and durable. KEFAI have an experienced team of R&D engineers who can customize packaging solutions according to your product characteristics.
Now, don't you think it is a great idea to choose KEFAI powder packaging equipment?  We promise that our products as well as our services will do extremely well. Get in touch with us!
Product Description
KEFAI powder packaging equipment is the machine of choice for filling and packaging all dry powder products. It is greatly ideal for packaging very fine powders such as detergent powder, flour, spice powder, pepper, chemical powder and baking soda and so on.
KEFAI Machine provides solutions to meet customer needs for most line packaging applications. We offer a wide selection of packaging machinery and spare parts for manufacturing plants and industries in many fields. We provide our customers with excellent service and support both before, during , after the sale.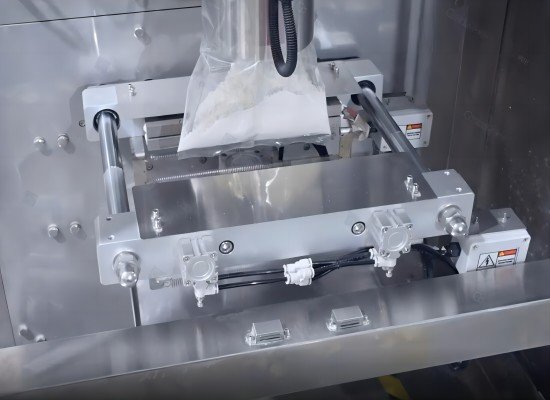 Featured Points for Choosing Us
KEFAI powder packing machine is  capable of giving you a perfect packaging solution for all kinds of powdery products.
Trusted After-Sale Guarantee
Great Control Of Delivery Time
Fulfillment Of Special Requirements
Affordable & Reasonable Price
Powder Packing Machine By Bag Type
(3)
 The most common packaging shape in powder filling machines is pillow pack. Pillow packs not only are the most common 3 side seal packs, but also is one of the most common.

Stand-up pouches are widely used in daily chemical products. For example, if the washing powder is packaged in the factory, it will be used detergent powder packing machine.
Powder Packing Machine By Industries
(3)
Some material examples for powder packing in the food industry are coffee, powdered sugar, flour, various powdered spices, milk powder, and so on.

The chemical industry mainly uses powder coatings and non-liquid powdered products, including baby powder, laundry detergent, etc.
Distinguished Features
Easy to Operate
The powder packaging equipment is easy to use and most of our machines don't require advanced technical knowledge to operate. Our powder packaging machines feature an intuitive full-color touchscreen interface.
Stable & Sturdy
The powder packaging machines are stable, safe and of good quality, and these are the feedback from our long-standing customers. We are definitely able to bring you a unique experience.
High Automation
The whole process from the original powder product to the final powder bag packaging is automatically packaged without manual intervention, which can greatly reduce human labor costs.
Not Expensive
KEFAI try our best to reduce the price of our products to the lowest level for the needs of our customers. We have low cost powder filling machine and we pay more attention to everything for customers.
Best Powder Packaging Machine Manufacturer:
Powder packaging machine manufacturer is a critical process in industries such as food and beverage, pharmaceuticals, and cosmetics. It involves the careful packaging of powdered products, such as spices, flour, pharmaceutical powders, and cosmetic powders, into various containers, such as bags, pouches, and jars.
One of the main challenges of powder packaging machine manufacturers is ensuring that the powder is accurately measured and dispensed into each container. Even minor variations in the amount of powder can result in significant differences in the quality and consistency of the finished product. To address this challenge, manufacturers use specialized equipment such as powder filling machines.
Challenges Faced by Powder Filling Machine Manufacturers:
Amount:
Powder filling machines are designed to dispense precise amounts of powder into each container. They use different techniques, such as auger filling or vibratory filling, to ensure that each container is filled with the correct amount of powder. These machines are typically designed to work with different types of containers and can be used with a range of powder products, from fine powders to coarse granules.
Packaging:
Another challenge for powder filling machine manufacturers is ensuring that the product is protected from moisture and air, which can affect the quality and shelf life of the product. To address this challenge, manufacturers use specialized packaging materials such as laminated films, foil pouches, and vacuum-sealed bags.
Powder filling machine manufacturer is a critical process that plays a vital role in the quality and safety of many products. By using specialized equipment and packaging materials, manufacturers can ensure that their products are accurately measured, protected, and ready for distribution to customers around the world. With advances in technology and the development of new packaging materials, powder packaging machine manufacturer continues to evolve, providing manufacturers with even more options for improving their processes and products.
Application Gallery
Detail Picture
Some Questions You May Want to Know
If you need a reliable and stable powder packing machine supplier, KEFAI Machine is the optimum choice for you.
What are the things to consider when buying the powder packaging machinery?
It is not easy to

buy a powder packaging machinery that fits the specific needs of your business , given the many aspects that need to be considered along the way. For example, we need to take into account your packaging  container type, machine price, equipment model, material for making the machine, production capacity of the machine, etc.
What if there is a problem with the product I received?
If you find that there is a problem with your product after receiving it, please contact our customer service staff immediately, and we will respond in time to help you check the specific problem with the product and tell you how to deal with it.

In order to prevent the problem that overseas machines cannot find the corresponding parts to replace in time, we will also send some them to you when shipping the products.

 
What are the characteristics of powder packaging machine?
①The powder packaging equipment is convenient to operate, so the wearing parts are less and the service life is longer.
②The equipment has dust collection setting, which can reduce the dust in the working environment and make it more hygienic.