Can Filling Machine
High Accurate Filling: Using 304/316 filling nozzles, the filling volume of our can fillers allows to be adjusted arbitrarily.
Strong Applicability: Our can filling system is suitable for various cans such as tin cans and aluminum cans, and it can be used for cans of different sizes.
Intuitive Control Panel: The design of the operation panel is reasonable and simple, the button functions are intuitive and clear, and the adjustment and maintenance are convenient.
Smart and Accurate: The turntable enters the bottle stably and accurately, and the mold can be replaced according to customer needs.
Product Section
The tin can filling machine has a wide range of applications, and it is suitable for various food, beverage, coffee, etc.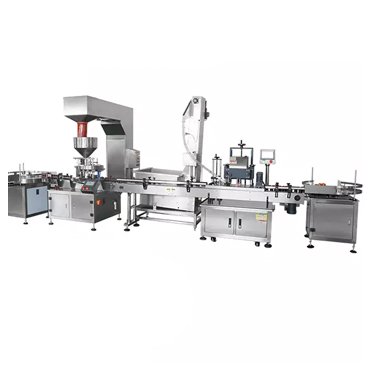 KEFAI Aluminum can filler is suitable for cans with a capacity of 250ml to 2000ml with fast filling.
KEFAIMachine uses fully automatic 3 in 1 can dosing machine to fill many beverages like cola, juice, coffee, carbonated drinks, energy drinks, beer, and other liquid in cans.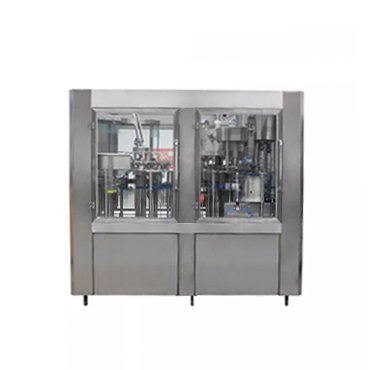 The semi automatic aerosol can filler machine includes liquid filling machine, sealing machine and gas filling machine.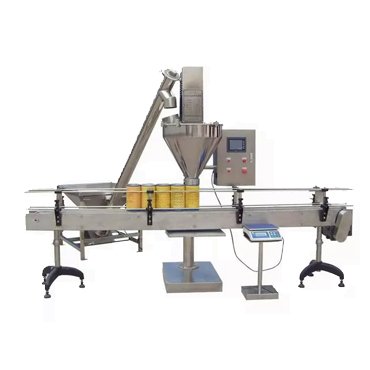 It is a fully automatic food powder can filling line, it is suitable for quantitative filling of milk powder, flour, protein powder and other powders.
This model of the automatic can filler machine is suitable for pastes such as sauces, jam, ketchup, mayonnaise, peanut butter, etc.
Description
Packaging Examples
All kinds of cans are suitable for filling, such as aluminum cans, tin cans, paper cans, and so on. The automatic can filling line is mainly used for filling juice and soy milk beverages. It consists of flushing, filling, sealing, and transmission belt. The production capacity can reach 2000 cans to 6000 cans per hour.
KEFAI specializes in the research and development of canned food and beverage filling equipment, serving one-stop can filling solutions. For can packaging, people always use our fully automatic 3 in 1 can filling machine which including can washing part, can filling part, and can capping part. In addition, we also have linear can dosing machine that equipped a capping machine and labeling machine. You can use it to fill and package various cans such as tin can and aluminum can.
Your Loyal Helper
Kefaimachine is your best helper to provide different can filling machinery. You can trust us because we have many certificates that ensure the high quality of our can filling machines. Whether it is a semi automatic or fully automatic can filling machine, we can introduce its advantages to you and recommend a machine that is most suitable for your current situation. KEFAI Machine specializes in the production of canning food machinery. Our can filling machine quality is reliable and well known at abroad. The quality is guaranteed and it is favored by old customers! Welcome to consult us.
Stable Product Quality
The whole can filling machine is jointly protected by the main electric box and other electrical appliances. In the event of overload, overvoltage, etc., the machine will stop working and automatically alarm. The cause of the problem can also be clearly seen, so it is convenient to accurately find the cause of the failure. KEFAIMachine uses imported electrical components from well-known brands and large manufacturers to ensure the stable operation of the machine for a long time and the safety of the machine when it is used.
The Frequently Asked Questions about Can Filling Machine
What are the reasons why the filling capacity of the can filling machine is not accurate?
There are many reasons why the filling volume of the can filler is not accurate or the material is not discharged. For example, it may be that the filling speed is too fast. Please adjust the filling speed and reduce the filling speed. If this can't solve your problem, please contact our customer service staff.
Is there a serious dripping problem with your can filling machines?
No. Please be assured that our can dosing machine is accurate. In addition, we have not received any feedback from customers about serious water leakage. If there is a serious drip, please contact us in time, we will help you repair as soon as possible.
Are your cans filling machines up to date with the times?
KEFAIMACHINE is at the forefront of R&D and production, and we continue to innovate and develop new can filling machine. The degree of automation of our filling machines is getting higher and higher, the structure is simpler and more reasonable, and the production efficiency is higher. Therefore, you can rest assured of our can filling system.