Zipper Bag Packing Machine
Low Loss: This zipper bag packer machine uses premade bags to pack various materials with beautiful bag shapes, reducing the waste of bag materials.
Abundant Packaging Materials: It is suitable for multi-layer composite, single-layer PE, PP and other films, paper preformed bags and other packaging materials.
Automatic Inspection: This zipper bag packer will not automatically fill the material and seal the bag if there is no bag or the bag is opened incorrectly.
Safe to Use: It will stop autonomously when the air pressure is abnormal, and the heater will be disconnected and the alarm will be raised.
Product Section
It is suitable for packing various capsules, seeds, chemical raw materials, sugar, melon seeds, nuts, pesticides, fertilizers, feeds and other granules.
KEFAI automatic powder zipper bag packer machine is suitable for packing milk powder, monosodium glutamate, flavoring agents, etc.
Description
Packaging Examples
The zipper bag packing machine is suitable for a variety of industries, including food, medicine, feed and other industries. In addition, this zipper bag packers can pack a variety of materials, such as various particles, powders, liquid sauces, mixed materials and other products.
KEFAI zipper bag packaging machine is specially designed for zipper-type bags. The equipment is flexible and multi-purpose, which can effectively solve the application of finished bags from small specifications to large specifications. The zipper bag packer can add zipper to all kinds of flat bags, stand-up pouches and shaped bags. If necessary, you can also add a hanging hole device.
Your Reliable Manufacturer
KEFAIMachine has cooperated with many well-known brands. For fifteen years, KEFAI Machine has been committed to making and providing customers with fully automatic, high-quality, stable operation, and cost-effective packaging machines. We are a supplier specializing in the production of automatic packaging machinery.
As a professional packaging machine manufacturer, KEFAIMachine can provide you with the most suitable zipper bag packaging machine. If you need to purchase a packaging machine recently, then please contact us in time. We can give you the best zipper bag packing solution.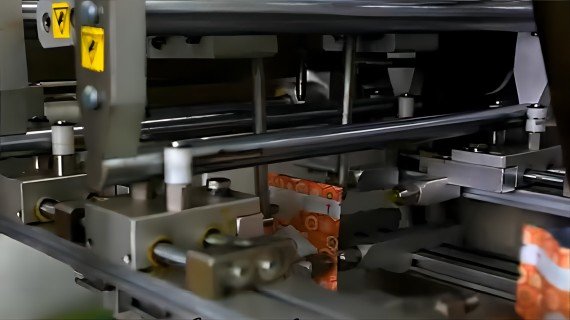 High Production Efficiency
KEFAI zipper bag packaging machine can adjust the speed through frequency conversion. This automatic zipper bag packer adopts frequency conversion equipment which can be adjusted within the appropriate range according to the actual needs of factory production. The zipper bag packing machinery is automatically loaded, the filling is accurate, and the packaging speed is fast. The packaging speed can reach 30 to 60 bags of products per minute. The zipper bag packaging machine is faster, more stable, and easier to maintain. Our zipper pouch packer machine can also effectively reduce the rate of defective products.
The Frequently Asked Questions about Zipper Pouch Packing Machine
How can I know your zipper bag packing machine is designed for my product?
You can send us a sample of your product and we will test it on our zipper bag packing machine. At the same time, we will take photos and videos for you to see.
How can I know the quality of the zipper bag packing machine before you ship it?
We invite you to visit our factory and check the quality of the machine and show you the operation of the zipper pouch packing machine in our factory. If you don't have time to visit, we can record a video for you.
Do you have any technical support if I have a problem with my zipper bag packaging machine?
Yes, we have a team of professional engineers with experience in installation, commissioning and training in many foreign countries for overseas machines. We can provide on-site help for repairs and other work, or we can provide online telephone communication to resolve problems.