Introduction to Water Filling Machine
KEFAI water filling machine is suitable for pure water or carbonated soft drinks, beverages, beer, edible oil, dairy products, and so on. No matter what kind of liquid you need to fill, we have a powerful and dependable filling solution. Besides, our automatic water filler can fill many different containers such as plastic bottles, glass bottles, barrels, jars, etc.
KEFAI Machine can fill your liquid products with the highest precision and efficiency, while the process is handled smoothly and gently. We have many different type of water dosing machines like small water filling machine, semi automatic water bottle filling machine, barrel water filling machine, 3 in 1 water filling machine, drinking water bottle filling machine, etc. At the same time, it can be equipped with capping machine, labeling machine, bottle management machine and other equipment, a complete linear water process system is basically realized. What's more, we can also prepare an aseptic water filling machine, which guarantees the quality of the water.
One-Off Solution
KEFAI Machine offers you the best mineral water filling machine systems for your production in the water industry and provides you with efficient and timely service. KEFAI Machine has a wealth of water filling technology and experience. Our customers can take advantage of our market leading prices to get the benefits as quickly as possible.
We have extensive technology and experience in water filling. We are the leading manufacturer of mineral water filling machine in China. We can give a filling solution exclusive to you and door-to-door service is also available.
Fast Filling Speed
The water filling machine has the advanced capability of intelligent automatic performance. The automatic water filling machines are available with multiple heads, commonly single, two, four and six heads, it can be equipped with up to 12 filling heads, and can also be customised according to the number of heads, and liquid water filling machines can also be combined with automatic capping machines to turn them into liquid production lines. It can fill up to 5000 bottles per hour, with a choice of bottle sizes ranging from 20ml to 5L and 10L. It is adept at filling containers such as bottles with high speed and impeccable precision.
Product Section
Here you can select the most suitable water filling machine for yourself.
It is also used for mineral water filling machine. The filling capacity is generally 350ml or 500ml, and the bottle can be packaged by filling, capping, labeling, and printing the current production date.
1 liter water bottle filling machine can be divided into different filling machines with 4/6/8/10/12 heads. The different number of filling heads leads to different output and different prices.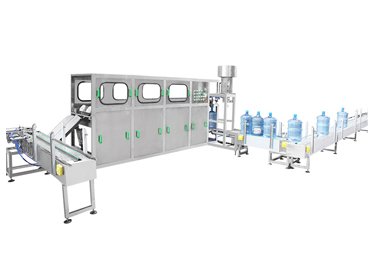 The linear 5 gallon barrel water filling machine is composed of sterilization washing machine, automatic filling machine and automatic capping machine with high capacity and easy maintenance.
KEFAI semi automatic water bottle filling machine price is cheaper than fully automatic water filling machine, and it is easy to operate.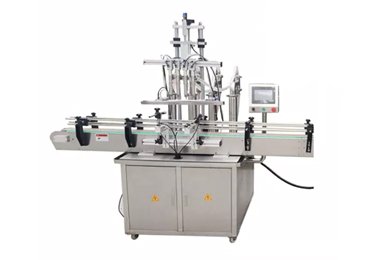 Although fully automatic water filling machine has higher cost, the quality is so good that we can get higher production faster.
KEFAI 3 in 1 water filling machine applies the three functions of washing, filling and capping in one machine.
Information about Water Filling Machine
What Our Customers Say
"I chose KEFAI Machine water filling machine factory for the first time to purchase a carbonated water filling machine, the quality of KEFAI machine is still quite good, and the operation is also very stable."
—— Mr. Bailon, a customer from Bolivia
---
"I need a 5 gallon water filling machine. We found all of the water bottle filling machine manufacturers, then I picked KEFAI Machine. I think the 5 gallon water filling machine price is reasonable and its quality is higher than other suppliers."
—— Mr. Bloechle, a customer from Tanzania
---
"KEFAI Machine is a water filling machine manufacturer with good products, good quality and good service. In addition, the automatic mineral water bottle filling machine price is cheap. The price is within my budget and is what I can afford to pay."
—— Mr. Willmes, a customer from Spain
Intelligent
The whole automatic water filling machine operation adopts the touch screen control, which can realize the operation of human-machine dialogue.

Precision
The machine adopts high speed filling valve, the liquid level is accurate and the filling head will not drip liquid. This ensures the filling process requirements.
Safe & Secure
The automatic water bottle filling machine is equipped with perfect overload protection device, which can effectively protect the safety of the equipment and the operator.
Easy to Assemble
The water bottle filler machine is easy to use. Assembly and commissioning in accordance with the manual and video of the machine's operating procedures, get started quickly.
The Frequently Asked Questions about Water Filling Machine
Is your water filling machinery easy to operate?
Yes, our water fillers are very easy to operate. The water dosing machine is using the intelligent system and touch screen. Our water dosers adopt computer control, and  are very friendly to beginners that they can start using quickly.
How many filling heads do you have in one water filling machine?
Our fully automatic water filling machines can be equipped with four, six, eight, ten, or twelve filling heads. However, the semi automatic dosing machine is generally 2 and 4 heads. However, it is possible to actually customize multiple filling heads according to actual production needs. You can choose the right equipment according to your requirements.
What are the advantages of using a 3 in 1 water filling machine?
This kind of 3 in 1 water filling machine makes the bottle washing, filling,  and capping operations all finished at once in the same star wheel or different stations of the transfer plate. Unlike linear filling machines, this greatly reduces the space occupied. It is mainly applicable to the medium and high speed filling production of food, beverage and daily chemical.