Introduction to Tomato Paste Packing Machine
The tomato sauce packaging and processing solution is used for the automatic production and processing of tomato sauce, peanut butter, mayonnaise, chili sauce, salad sauce, shampoo and other sauces.We can provide automatic packaging and production equipment for tomato sauce.
KEFAI Machine has many tomato paste packers and we can customize the corresponding tomato sauce production line solution according to the processing output of tomato sauce.

The tomato paste is filled into the packaging film through mechanical operation. Full automatic packaging is realized through automatic film pulling, bag making, sealing, cutting and coding of the packaging machine.
Sincere Service to Win Customers' Hearts
KEFAI Machine specializes in the production of vertical packaging machines, powder packaging machines, particle packaging machines, liquid packaging machinery, multi column packaging machines, automatic weighing and filling packaging. And we have covered in food packaging, daily chemical packaging, pharmaceutical packaging, handicraft packaging machines, hardware packaging, toy packaging, etc. Have any interest in KEFAIMachine tomato sauce packing  machine? Contact us now!
Famous Brand Electrical Equipment
KEFAIMachine attaches great importance to tomato paste packing machine product quality. Compared with other tomato sauce packing machine suppliers, we use Siemens and other imported well-known brands of electrical packing machine appliances. The use of these old and famous brand electrical products ensures that our tomato paste packer machines are more reliable and stable enough to ensure long-term use without any damage. We can responsibly say that customers can confidently and boldly choose our high quality tomato sauce packaging equipment.
Product Section
Choose a preferable model or customize one exclusive to yourself.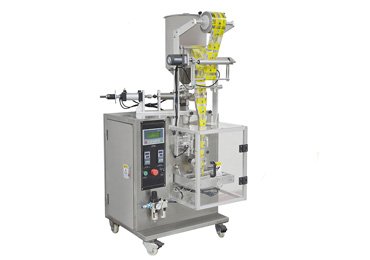 The semi-automatic tomato paste packer and the fully automatic one can be provided.
The multi lane tomato paste packaging machine has the characteristics of high efficiency.
It can achieve high precision in bag making, and the package is beautiful.
The tomato paste premade pouch packing machine is as efficient as five workers.
The suction nozzle bag is in the shape of a stand up pouch, which is convenient for use.
Tomato paste can be packed in bottles and its capacity is large and can hold more paste materials.
Information about Tomato Paste Packing Machine
What Our Customers Say
"We found many wholesale tomato paste packing machine manufacturers. We need a tomato paste jam sachet packing machine and we tried to search a china tomato paste packing machine supplier. I found that your automatic ketchup packer machine is advanced and has good performance."
—— Benson, a customer from Poland
---
"KEFAI ketchup packing machine price is suitable. Not only that, from pre-sales to purchase, delivery to after-sales, KEFAIMachine is so satisfying."
—— Moore, a customer from Hungary
---
It is a high quality tomato paste packing machine, I think. We ask a lot of best tomato paste packing machine factories, but only KEFAI machines can meet our requirements. So we would like to choose KEFAIMachine's ketchup packaging equipment in the end."
—— Felix, a customer from Paraguay
Extensive Use
It can not only package tomato paste, but also all kinds of paste, liquid, paste and semi liquid packaging materials in food, medicine, chemical industry, etc.
Optional Configuration
In addition, we are also equipped with a coding machine, labeling machine, connecting bags, nitrogen filling machine and other functional machines.

More Hygienic
304 stainless steel appearance and 316 stainless steel can be customized. Conform to the requirements of GMP specifications. It is easy to clean and more hygienic.
Visualization Process
The construction of tomato paste packing machine allows you to conveniently observe the efficiency of the whole machine to pack the working process.
The Frequently Asked Questions about Tomato Paste Packing Machine
What is the packing capacity of tomato paste machine?
The packaging capacity of a small ketchup packaging machine is about 5150 grams, while the packaging capacity of a large ketchup packaging machine is about 1500 kilograms. If you have special requirements, we  can also customize a ketchup packer for you.
Do you have multiple packing machines for tomato paste?
Yes. The tomato paste packer has a variety of models including double column, 4 columns, 6 columns, 8 columns, 12 columns, and its production efficiency is great. 
What advantage does your tomato paste packaging machine have?
The storage hopper of the ketchup packer is separately equipped with a stirring device, which can effectively prevent the precipitation of liquid materials during the packaging process. Besides, the tomato paste packer adopts closed mechanism, and is equipped with safety door. Therefore, it can effectively pavoid dust entering.