Tin Can Filling Machine
Precise Weighing: Our tin cans filler has a high-precision digital load cell that enables accurate measurement.
Sanitary: The sealing design can effectively prevent material accumulation and facilitate cleaning.
Low Maintenance System: KEFAI's tin can filling line is a rugged, low-maintenance system with accurate and efficient performance. It makes the maintenance of the machine  no longer difficult.
Save Manpower: Only one person is required to operate the machine, and the tin can filler adopts PLC control and touch screen can be used.
Product Section
This is a kind of tin can dosing machine for powders from KEFAI Machine. You can use this machine to fill any power materials like milk powder, condiment, etc.
Most of the time we choose the tin can filler for granules to fill solid particulate materials into tin cans, such as tea, coffee beans, snacks, candy, and so on.
It is mainly used to fill pure water, mineral water and soft drink into tin can. Tin can filling system is transmitted step by step to make it stable.
This type of the automatic tin can filling machine is a 3-in-1 machinery. And you can use it to fill carbonated beverage and beer.
This 500ml tin can filling system has the advantage of a small footprint. It can quickly complete the filling and sealing work to obtain the final product.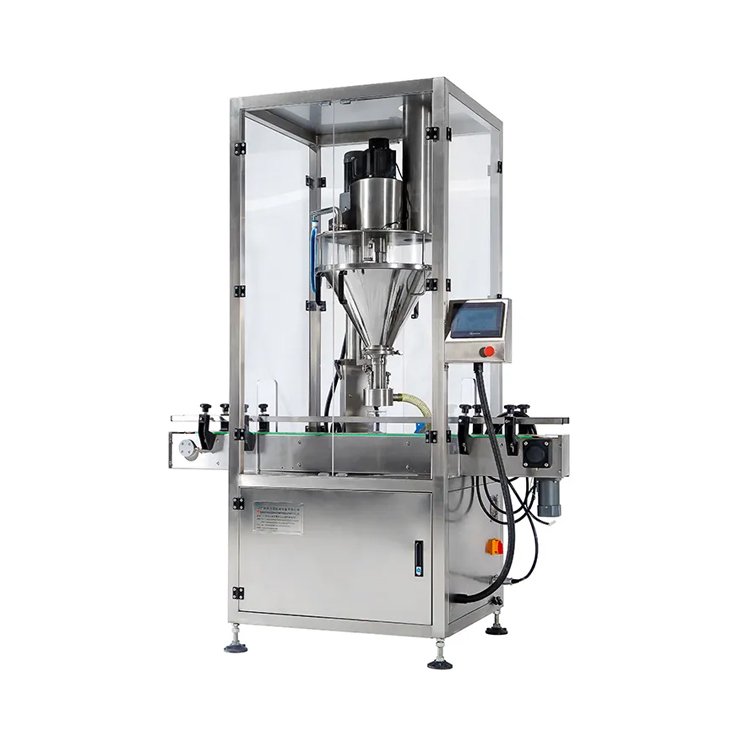 For materials with large dust, we can add a vacuum duster to match up with the 900ml tin can filling machine and keep the workplace clean.
Tin can filling machine can fill many materials into cans of various sizes with high speed. In addition, we have a variety of corresponding tin can filling machines for different types of materials. It is so popular that many customers want to own one or more of these devices especially in the food and beverage industry.
KEFAI Machine's tin can dosing machine adopts advanced technology and has fast filling speed. The quality of the tin can filler machines is great and its appearance is beautiful. The machine runs smoothly, and the production speed is adjusted by frequency conversion. I recommend you to use our filling machine, which will bring you unexpected gains. The following will take you through KEFAI Machine's one-stop solution for tin can dosers.
Elevation of Production Capacity
KEFAI Machine has always been at the leading level in the filling machine industry. We have more than fifteen years of experience. KEFAI Machine has many automatic tin can filling and sealing machines so that we can achieve any of your production goals. We will provide you with relevant advice as well as assistance to help you make the most of your machine and get the most out of your profits. So, choose KEFAI's tin can fillers as your best choice. KEFAI Machine will lead you every step of the way until you succeed.
Strong Automatic Functions
KEFAI Machine's automatic tin can filling solution has many powerful advantages. The belt conveyor runs through the entire production line, making the automatic tank feeding smoother. It can perfectly achieve no can and no filling; automatic identification of cans and automatic filling, and the machine adopts piston-type filling valve to make the liquid level more accurate and the filling more precise. At the same time, the filling level can be adjusted at any time. All electrical components are well-known brands, which ensures the stability of the automatic operation of the tin can filling equipment.
The Frequently Asked Questions about Tin Can Filling Machine
How much can the filling capacity of this tin can filling system reach?
The filling volume can be customized according to customer requirements. By the way, if you are using a filling line, it is only suitable for one bottle, jar or can.
Do you have any suggestions for tin can filling machine installation or maintenance?
The operation and maintenance are convenient. We recommend that the machine should be well maintained twice within half a year. For the installation of the machine, we will send it to you together with the machine manual guide when the machine is shipped, or our engineers will have a video call with you to teach you on-site, or we can assign our engineers to help you.
Can you provide all the machines for a tin can filling line for me?
Yes, of course. We have not only tin can filling machines, but also supporting seaming machines, capping machines, labeling machines and other machinery that can form a complete production line for you.