Introduction to Sugar Packing Machine
Sugar packing machine has a wide range of packaging. Sugar of all sizes and types can be packaged with it, and the packaging pattern is exquisite. The use of an automatic sugar packing machine can replace the work of six people, thus greatly speeding up the production progress.
KEFAI Machine's sugar packing machine can best bring benefits to the factory. In the field of packaging machinery, it is very important for a factory to use a good sugar packaging machine. And KEFAI Machine's automatic sugar packing machine can help companies achieve their best goals. Not only does our sugar packing machine not require manual participation, but the weighing of each bag of sugar is accurate and error-free.
Best Supporting in Sugar Packaging
KEFAI Machine is able to supply sugar packing equipment  for a variety of applications with you. Our Sugar packaging machines own extremely high performance, and are equipped with radiators to prevent the product from sticking when the temperature is too high.
Our team of R&D engineers has the advantage of rich experience and can customize a suitable packaging solution according to your product characteristics. KEFAI Machine not only  has a lower price compared to our peers, but also has high quality sugar packaging machines. 
Easily Set Up
KEFAI sugar packaging machine can be installed and disassembled quickly. The environment of the packaging machine is hygienic and clean, and the materials in contact with the equipment are made of stainless steel. It is easy to clean and maintain.
You need to remember to cover the sugar packing machine with a cloth cover when not in use, and do not put it in an acidic environment, which can effectively protect the equipment and its service life. If you still have trouble, you can connect with our KEFAI's customer services staffs.
Product Section
Our sugar packaging machine is suitable for a series of packing bags.
KEFAI sugar sachet packing machine is suitable for packaging sugar products with low weight. A sugar packing machine 1kg is enough to easily pack and fill dozens of tons of sugar in a few hours of work, which can enhance the productivity.
This is the most widely used sugar packing machine. It can be used to automatically fill a variety of granular materials with high efficiency. For example, jaggery packing machines and sugar stick packing machines are low cost and high quality.
The main application area of sugar is food. Sugar is essential in food, we can normally see children eat lollipops or soft sweets. In addition to this, when people cook, they also use sugar, such as white granulated sugar.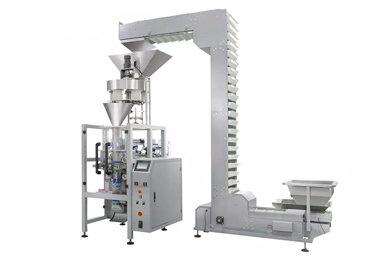 The proportion of sugar used in the pharmaceutical industry is relatively small, but it still exists. Sugar also plays a certain role in medicines. It is made into medicines by analyzing the sugars extracted from the raw materials.
With a kind of premade pouch packaging, KEFAI sugar premade pouch packing machine is able to make the sugar more eye-catching. Therefore, it will attract more consumers to purchse the sugar products.
Information about Sugar Packing Machine
Customer's Feeling After Use
"I have to give a good rating to Kefaimachine. KEFAIMachine's sugar packing machine price is cheap. The automatic sugar sachet packing machine's work efficiency is particularly high. I think it is a very pleasant shopping experience."
—— Iris, a customer from Slovakia
---
" I have never used such a good product! Kefai Machine addressed my needs as much as possible and the finished product was very much what I expected."
——Shaw, a customer from Dominica
---
"I just want to say one thing, KEFAIMachine is so great! I love this sugar sachet packing machine very much! If I have trouble, Kefai Machine will solve my problem in time. I can't agree anymore! Thanks to your efforts,  I can have such a suitable sugar packer!"
——Jack, a customer from Jamaica
High Automation
KEFAI's sugar packing machines are fully automatic. They are so automated that they save workers time. No manual intervention is required during the entire packaging process.
Streamline Packing Process
The packaging machine system is simple and stable, which not only realizes discharging, packaging, sealing, and cutting in one step but also effectively improves the packaging efficiency.
Enhance Productivity
The sugar packaging equipment works efficiently and quickly, and automatic sugar packing machine can automatically package, seal, and cut, which brings good benefits to the manufacturer.
Low Price
KEFAIMachine's sugar packaging machines have always been committed to reducing the price to a minimum, and we are trying our best to meet customer needs and maximize customer interests.
The Frequently Asked Questions about Sugar Packing Machine
How to buy a suitable sugar packaging machine?
This needs to be considered based on your actual needs. You shoud tell us  the information related to the sugar packer such as packaging materials, bag size, how many bags you plan to produce per hour, and so on.
How to place an order for a sugar packing machine?
You can contact us by email or phone, or you can confirm the product through the official platforms. Prepay the deposit, and then we will start to produce sugar packaging machines for you.
Can different types of sugar be packed in sugar packaging machines?
Yes. Our sugar packaging machines can be applied to various sugar. Different packaging machines also have different packaging types, everything depends on the specific needs of customers.