Introduction to Shrink Film Wrapping Machine
KEFAI Machine offers you different models of shrink film wrapping machines that are the best choice for laminated packaging for food and non-food industries. Our shrink film packer can help you protect your products from dust or other elements. It can effectively seal, moisture-proof, prevent pollution, and protect the goods from external shocks.
Our automatic industrial heat shrink packaging machine is not only fully functional and easy to use, but also has a novel, reasonable and beautiful design. Shrink wrap solution is suitable for high-volume shrink packaging industry and has many advantages of no mucous membranes, no cracks, good sealing, and saving labor.
Advanced and Effective Machine Model
We can offer the world-leading automatic industrial shrink wrap machines. KEFAI Machine can not only provide shrink packaging for small hand-operated products, but also for large conveyor belt industrial factories. In addition, we have experienced production strength.
The industrial shrink wrap machine is full of high precision, and the quality of it is guaranteed. The stainless steel guide rail is able to reduce wear to a large extent. 
Intelligent Temperature Control
KEFAIMACHINE industrial shrink wrap machines use high electronic imported components. Our shrink film packers all use high precision intelligent chip temperature control instrument system, the upper and lower temperature can be independently adjusted to achieve variable frequency control, heating more stable, the temperature is too high will alarm to remind. We have been tested in different temperatures, the wrap machine performance is very good, to ensure that the machine can be intelligent temperature control range is only about 2 degrees Celsius up and down.
Product Section
KEFAI Machine has created a well known brand in the wrapping industry.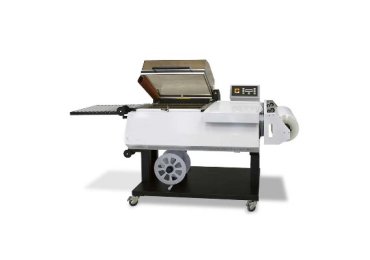 KEFAI manual shrink wrapping machine is suitable for various sizes of items. Because of its strong practicality, it is very popular during our customers.
The industrial semi-automatic shrink wrap machine is cheaper than the fully automatic machine and more convenient than the manual heat shrink gun.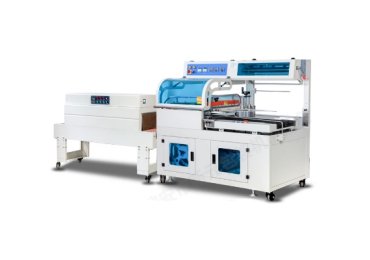 The fully automatic shrink wrapping machine is suitable for assembly line operations for large-scale production, which can save much human power cost.
The pallet shrink wrapping machine can wrap products stacked on pallets and is popular in small and medium-sized factories.
KEFAI heat seal shrink wrap machine is made of stainless steel and the goods can be wrapped by POF film or PE film.
KEFAI side seal shrink wrap machine contains two models: intermittent and continuous. The difference between the two is efficiency.
Information about Shrink Film Wrapping Machine
Customer Feedback
"We looked for many factories, and finally chose KEFAI Machine here. We received the shrink wrap machine, we found the quality of this machine is good, the price is affordable, and it is very easy to use. Next time we need other machines, we will choose Kefai Machine again."
—— Mr. Masia, a customer from Poland
---
" We have been using KEFAI Machine's shrink film wrapping machine, and we are here to buy this large industrial shrink wrap machine this time. The industrial heat shrink wrapper performance is very stable, I would recommend KEFAI's machine to other friends."
—— Mr. Alrube, a customer from Kuwait
---
" The packaging of the shirnk film wrapping machine is perfect, and the whole machine is delivered without any bumps. The installation is not strenuous at all, and it is well worth buying. I hope Kefai Machine's business is prosperous."
—— Mr. Boers, a customer from Netherlands
Fast Working
Shrink wrapping machines provide a faster and more efficient method than handheld heat guns. It effectively increases production, speeds up packing time, and improves the efficiency of shrink wrapping.
Small Footprint
Shrink wrapping solution has two parts including a sealer and a shrink tunnel. The shrink wrap machinery is smaller profile than other sealing system and greatly saves floor space.
Secure
Shrink wrappers can reduce the risk of burns and fires by controlling the heat in the shrink wrapping process. Shrink wrapping machines have safety functions to protect operators from injury and the risk of fire in the factory.
Cost Saving
Not only will the cost of the machine be very low, but also the transportation cost will be reduced as the size of the packaged product will be reduced and the available storage space for the product will be increased.
Shrink Wrapping Machine Manufacturers in China:
Since 2007, KEFAI has developed packaging equipment. KEFAI Machine specializes in filling and packing machines. KEFAI shipped 1500 packing machines. We can supply a comprehensive packaging production line to save time and increase efficiency. Filling and packing equipment vary. We use the best packing machine materials for a fantastic shopping experience. Kefai filling and packing machines meet all requirements. Food, healthcare, chemical, cosmetic, pesticide, and pharmacy sectors use our packing and filling equipment. Order any packaging container.
The Process Shrink Wrapping Machine Manufacturer:
Shrink Wrapping Machine Manufacturers are widely used in the packaging industry to wrap products tightly in a layer of plastic film. These machines use heat to shrink the film around the product, creating a secure and protective seal. In this article, we will explore the different types of Shrink Wrapping Machine Manufacturers and their key features.
L-bar Sealers:
L-bar sealers are used to wrap individual products or groups of products in a layer of shrink film. The product is placed on the film, and the L-bar sealer cuts and seals the film around the product. The sealed product is then passed through a heat tunnel, where the film shrinks and conforms to the shape of the product.
Sleeve Wrappers:
Sleeve wrappers are used to wrap products with a single sheet of shrink film. The product is placed on a conveyor belt, and the film is formed into a sleeve around the product. The sealed product is then passed through a heat tunnel, where the film shrinks and conforms to the shape of the product.
Bundling Machines:
Bundling machines are used to wrap groups of products together in a layer of shrink film. The products are arranged on a conveyor belt and pushed into a film sleeve, which is then sealed and shrunk around the group of products. This type of machine is often used for packaging products such as cans, bottles, and boxes.
Shrink Wrapping Machine Manufacturers' machines can be customized to fit the specific needs of a business. Additional features that can be added to Shrink Wrapping Machine Manufacturers include print registration systems, which ensure that the print on the product is aligned with the film, and automatic product stacking systems, which stack the wrapped products for easy transport.
The Frequently Asked Questions about Shrink Film Wrapping Machine
What is an industrial shrink wrapping machine?
Since the shrink baler has two inverted L-shaped seals, it is also called L-bar baler in order to distinguish it from I-bar baler. The shrink film packer works and runs at a higher speed, making the product shrink wrap faster.
What is the difference between PE heat shrink film machine and POF shrink film machine?
The PE shrinking film packing machine can be applied to three kinds of film shrinkage: PE,POF and PVC. While POF shrink film packing machine is only suitable for POF and PVC.
Do you recommend a heat gun for shrink wrapping?
No. The output temperature of the heat gun can be very high, which may cause a fire if the machine is used in one place for a long time. Heat guns need to be used with caution, so we recommend using automatic hot film shrink packers.