Introduction to Sauce Packing Machine
The sauce packaging machine has become indispensable equipment in the food industry. The sauce packer can package a variety of sauces, such as ketchup, peanut butter, jam, hot sauce, bean paste, detergent, soy sauce and so on.
KEFAIMACHINE sauce packing machine is reliable and well received by users, and has simple operation, low failure rate, more stable operation. KEFAI Machine has CE certifications to make you rest assured of the sauce packer's quality. The use of high quality accessories is capable of maintaining the sauce packaging equipment endurable and stable. The waterproof system of the sauce packaging machines also makes cleaning more convenient.
Well-Trained Professional
KEFAI Machine's staff are professionally trained to quickly answer your machine-related questions and provide solutions that suit you. If you want to see our products, we can provide a real product operation video. We are a sauce packing machine manufacturer integrating industry and trade. The sauce packers you see are in stock and you can receive them soon after you purchase them. Our technicians have rich experience in the installation and maintenance of sauce packer machines, you do not need to worry about the subsequent after-sales problems. If there is a requirement for installation, we will provide a detailed installation video.
Maximize the Precision of Cutting
In the cutting link, the color mark is generally used on the edge of the packaging bag for cutting and positioning of the cutter. The sauce packing machine needs to judge the accurate cutting position of the cutter. The difficulty lies in short response time and rapid detection. The color code area of plastic packaging is small, and the running speed of the packaging roll is fast. After receiving the signal, the upper computer controls to cut off and cut the packaging bag. Moreover, we make sure that KEFAI Machine's sauce packer equipment can cut and seal the packging of products accurately. 
Product Section
Our sauce packing machine is suitable for handling a vareity of  paste materials.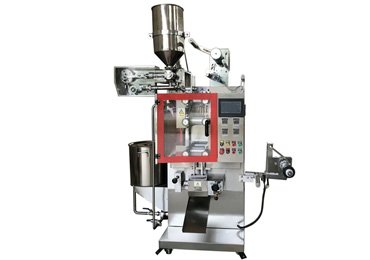 The semi-automatic sauce packaging machine and fully auotmatic sauce packing machine can both be supplied. It requires less people to do all the work.
An automatic sauce packing machine is time-saving and labor-saving. However, multi-column packers are much more efficient and packaging more products.
The sauce vacuum packing machine can fill the whole bag in the packaging process. It is suitable for packaging materials like jam, paste, jelly, salad dressing, butter.
As a sauce pouch packing machine, this is the most common vertical packer. Sauce packet packing machine is very popular for various enterprises.
This sauce premade pouch machine uses prefabricated bags, and can achieve perfect pattern, good sealing quality, and low packing material loss.
The sauce stick packing machine can package condiment sauce, shampoo, honey, cooking oil, juice and other liquids. Inflatable device can be added at the same time.
Information about Sauce Packing Machine
Customer Feedback
"The first time I saw the packaging machine and asked their customer service staff. It went so well that I quickly placed an order for their machine. KEFAI Machine  showed me a video of the 200g sauce packer machine in action before shipping, and the results were excellent. I am already using the sauce packaging machine for production."

—— Mr. Amr,a customer from the United Kingdom
---
"In the more than two years of cooperation with your employees continue to provide me with high-quality services, their products are very competitive in price and work efficiency. And now, we were searching for a vffs ketchup sauce packing machine, so we contact KEFAI Machine at the first time. My friend is looking for a curry sauce packing machine recently, I think I can recommend KEFAI Machine to him."

—— Mr. Vivek, a customer from Ireland
---
 "From the first day of ordering the product to the maintenance and repairs that follow, the staff at KEFAI Machine has always been welcoming, it's a friendly company and the staff are very helpful. KEFAI Machine has lower sauce packing machine price. I am very satisfied with the service they provide, and if I need to buy a new filling machine in the future, I will not hesitate to contact you."

—— Mr. Marius, a customer from German

High-Usage
The sauce packing machine has an operating system that is flexible and the multi-column packaging can improve efficiency.

Frequency Control
The sauce packing machine uses frequency control device, and the speed can be adjusted freely within the specified range.
Long-Term Use
Our sauce packing machine is durable and has a low failure rate with programmed operating system in advance.
Less Downtime
The sauce packing machine requires almost no maintenance and cleaning, saving working time and improving efficiency.
The Questions You May Be Interested In
How to select the right type of sauce packing machine for customers ?
The sauce vertical packaging machine model is defined according to the large film width, which needs to know how to calculate the bag width film width. Generally, the film width consists of two parts, which are twice the bag width and twice the sealing roller width. If it is chamfered, extra chamfer depth needs to be

added

.
What are the common optional devices of the sauce packaging machine?
The common optional devices contain plug angle device, drilling device, upper feeder device, lower bag device, nitrogen filling device, exhaust device, package device, easy tearing device, upper feeder hopper vibration device, thermal transfer printer, dust removal device, bag device, vacuum pumping, etc.
How many cut shapes does the sauce packing machine have?
There are two types of cutting: serrated and flat cutting.