Sachet Packaging Machine
Rational Structure: The sachet packaging machine is designed with a compact structure, so the size of the whole equipment does not take up much space.
Multiple Options: The inflating device, continuous bag device, punching device, coding machine, exhaust device, easy tearing device, screw filling device, measuring cup filling device can all be configured.
 Intelligently Control: The sachet packer machine is able to be equipped with a touch pad to control the entire process in production. All date related to packaging will be displayed on the touch screen.
High Precision: KEFAI sachet filling and sealing machine can control various movements of the machine in an ultra-precise way through servo motors, digital control, etc.
Product Section
KEFAIMachine vertical sachet packer machines are able to perform fault diagnosis and analysis on the working situation, and the solution will be displayed.
KEFAIMachine horizontal sachet packing machine is a fully automatic device, which will be able to accomplish bag making, filling, sealing and coding, etc.
KEFAIMachine sugar sachet packing machine allows you to adjust the bag length, bag width and packaging speed, etc.
KEFAIMachine honey sachet packing machine is a well-selling device. This sachet liquid packing machine can intelligently control temperature to achieve beautiful sealing.
KEFAIMachine ketchup sachet packing machineadopts high-quality packaging film to achieve good packaging quality. Thus, the packaging is not only flat but also anti-leakage.
KEFAIMachine tea sachet packing machineis capable of  realizing quantitative packaging of tea, which is extremely convenient for customers to carry and eat.
Description
Packaging Examples
KEFAIMachine sachet packing machine is a device for small volume packaging. The sachet packaging machine is an ideal option for packaging small quantities of items, including different kinds of liquid, granular, and powdery products. The measurement method can be selected according to customer requirements, and the metering cup measuring machine and the multi-head electronic combination scale can better measure the product.
And the food sachet packer is a common model chosen by customers. We have been offering the most suitable sachet filling and sealing equipment to you on the premise of ensuring high quality and low price.
Your Top Option
KEFAIMachine packing machines are equipped with safety protection devices, which fully conforms to the requirements of enterprise safety management. Our sachet packing machine for sale can be delivered to you as soon as possible. Our sachet packers are full-featured and advanced in design that will double your sense of use. The integrated design allows your technicians to rapidly learn the skilled operation of the equipment. The sachet packaging machine price you get from us must be the most reasonable and affordable. KEFAImachine automatic sachet filling and sealing machine is the best choice for your business to increase efficiency and cut down costs.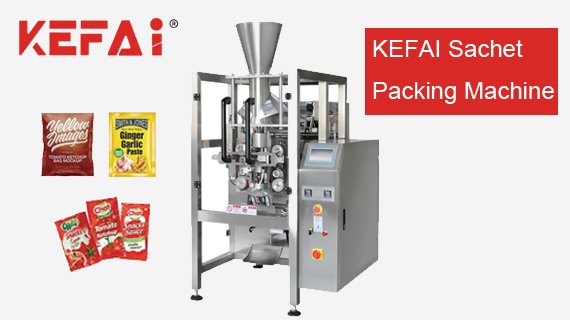 Attentive Service and Quick Response
After you see our products, there are bound to be many questions you want to know. For example, how to use the sachet packing machine, how much is a sachet packaging machine, which model of the sachet packing machine is the most popular, or how can the sachet packing machine be repaired, etc. For such questions, you are allowed to leave a message on our platform, and we will reply as soon as possible. Or you can leave your contact information, we will contact you in the earliest time to understand your detailed needs.
The Frequently Asked Questions about Sachet Packing Machine
If the sachet packing machine fails, will it cause a lot of loss in production?
No. When our sachet packaging machine fails, it will automatically alarm or stop immediately. And the detailed cause of the failure will be displayed on the display screen, so you can quickly restore the equipment.
Can the sachet packaging machine print dates?
Yes. Our sachet packaging machine has the function of date printing but you need to configure a date printing device.
What if the packaging film of sachet filling and sealing machine has a tendency to deviate?
Actually, you don't have to worry about this at all. Because our sachet packers have the function of automatically correcting the position of the film. If the film is displaced, the machine will restore it to its proper position.