Introduction to Perfume Filling Machine
KEFAI perfume filling machine is a kind of aerosol filling device specially designed for materials like perfume. The perfume filling equipment is applicable to the filling of perfumes and other water-based materials such as oral liquid, essence, eye drops, and so on.
All of our perfume dosing machines have qualification certificates and patent certificates. KEFAI Machine is able to show you the information if you want to know. We can provide you with a list of wearing parts and spare parts and attach a certain amount of spare parts for free.
Most Thoughtful Supplier
KEFAI filling machine can offer you the most worry-free experience. Our filling equipment can manufacture 300 per month. Therefore, the needs of a large number of customers for the number of machines can also be met. As for the delivery period of our perfume filling equipment, we will try our best to realize the needs of our users. If you have a tight schedule of the perfume filler machines, please let us know in advance and we will comply with your requirements as much as possible. Also, the perfume dosing machine is able to be applied together with automatic glass bead placing machine, labeling machine, tube sticking machine, etc.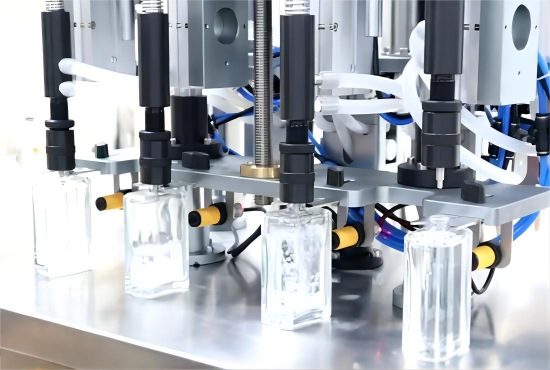 Thorough Performance Inspection
KEFAI Machine has done well in the quality control of every device, not limited to perfume filler. You are allowed to see the quality records and testing data of our perfume filling machines. Our customers can visit the factory in person to inspect the whole process and performance of the perfume filling equipment. Our perfume filling machine will be tested for three whole days to debug and test for many times. Only the perfume filling machine is qualified can it be sold and shipped.
Product Section
KEFAI perfume filling machine is able to fill liquids with volatile properties.
KEFAI 3ml perfume dosing machine allows you to go on a super small dose of perfume liquids.
KEFAI 10ml perfume filling machine can run in the case of no electricity, which is quite flexible.
KEFAI 30ml perfume dosing machine is designed with a small size, which can help you clean the equipment.
KEFAI 50ml perfume filling machine can realize double-headed synchronous filling, which greatly enhances production efficiency.
Information about Perfume FIlling Machine
What Our Customers Say
"Kefaimachine is really a great seller that is full of big potential. It is totally out of my expectation that the perfume dosing machine has excellent quality. It is designed with a small size and does not take up much space."
—— Phoenix, a customer from Iran
---
"I gotta say that your service is so awesome. Whether it is equipment transporting or the assistance of the after-sales service, you did a great job. When I express that my budget is limited, you recommend me an affordable transporting scheme of the perfume filling machine, which can minimize the expense of shipping. I am very grateful for that."
—— Lennox, a customer from Denmark
---
"Your perfume dosing machine gave me a big surprise. The perfume filling equipment that I order ship only within two days. So quickly. In addition, Kefai perfume filling machine is very sensitive so it has a rapid running speed. Thank you a lot!"
—— Lane, a customer from Egypt
Air Tight
The perfume doser machine is able to ensure that the filling speed is fairly fast. Moreover, we use glass bottle filling which has good chemical stability, and is easy to seal.

Space Saving
A entire production of perfume dosing machine tends to occupy more space than a single device. However, The conveying system of perfume filling machine can adopt U-shaped rotary structure design to save the site.
Non-Volatile
After the perfume is filled, it is usually aerated to keep it from evaporating. Our perfume filling machines can use vacuum filling, through the suction of the vacuum to fill the perfume into the bottle, without contact with air.
Accurate
To match the nature of the perfume filling, KEFAIMachine perfume filling machines allow you to control the filling speed and filling volume. Thus, the precision of our perfume filling can be perfectly realized.
The Frequently Asked Questions about Perfume Filling Machine
What is the perfume filling process?
Perfume filling generally goes through the following steps: filling liquid, sealing, aerating, weighing, water testing, installation of nozzle, installation of lid, spray codes, sealing and wrapping, etc.
What about your perfume filling machine price?
Regarding the price of the perfume filling equipment, you don't have to worry about this at all. Our perfume fillers are factory direct sales, and the prices for you are the lowest.
Where do you source the materials for the production of your perfume filling machines?
KEFAI Machine can promise that our perfume doser is made from some famous brands both at home and abroad. Therefore, its performance can be fully guaranteed.