Introduction to Nuts Packing Machine
For general purposes and in the culinary sense, a wide variety of dried seeds are called nuts, such as almonds, pecans, pistachios, walnuts, and Brazil nuts. Nuts are the essence of plants, generally rich in nutrition, contain protein, oil, minerals, vitamin is higher, to human body growth and development and health has excellent effect.
As the best China cashew nut packing machine manufacturer, our filling and packaging equipment can accommodate a wide variety of packaging for nuts. Are you in the market for packaging solutions for your dried fruits and nuts? Depending on your product, we can suggest suitable equipment to meet your needs and budget.
The Most Thoughtful Service
KEFAI Machine has decades of accumulated experience and are specialized in developing new processes and technologies. We are also equipped with a variety of parts and accessories. We can help you debug the machine. You can also send some samples of your product bag to us for debugging to see the results.
We can take a video of the machine using your sample for bag making and packaging in the factory for you to see the effect and the operation process of the machine. 
Wonderful System Integration
In the packaging machinery businesses, almost everything can be made to order. Our engineers have more than 30 years of experience in packaging work and are experts in custom filling and packaging equipment to achieve maximum performance, versatility and efficiency.
We will help you design, execute and implement the perfect workflow or integrate with your existing equipment. We will enable you to have a perfect purchase feeling.
Product Section
The rich experience in packing machine industries create a great development envioronment for us.
All of our bagger models are designed to run multiple packaging styles and sizes on the same machine through quick, toolless replacement of seal claws or film rollers.
KEFAI volumetric cup filling machine is designed for filling granular materials such as nuts, seeds, tea, and so on. It can also be equipped with a capping machine as a packaging production line.
Our nuts vacuum packing machine can be up to 100 degrees vacuum, and adopts imported material partition board, create a perfect vacuum environment, so the package does not contain air.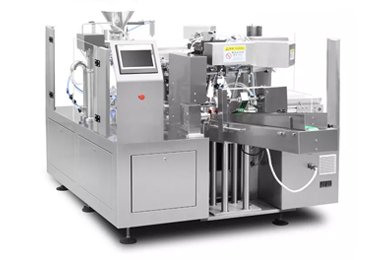 Four-sided sealed bags are very common, as are three-sided sealed bags.
We use doypack bags for packaging, which is convenient to use and can be placed on the table at any time.
In addition to bag packaging, nuts materials can also be packed in bottle containers.
Information about Nuts Packing Machine
Customer's Feeling After Use
 "I need to buy a nuts packing machine and I saw many China small sachets cashew nut packing machine suppliers. Finally, I picked KEFAI machine's small sachets cashew nut packing machine. I think Kefai machine nuts packing machine price is lower than other companies. At the same time, the quality of their machine is also high, which is what I want so that I chose Kefaimachine's machinery."

—— Hugh,a customer from Italy
---
 "We were searching for wholesale mixed nuts bag packing machine, and we know Kefai machine is one of China mixed nuts packing machine factories. We communicated with KEFAI Machine's customer service and found that they were very professional and considerate. We bought a peanut cashew nuts packing machine in the end. We were very satisfied with their service and machinery. Thank you very much."

—— Gavin, a customer from Russia
---
"When I saw a China nuts bag packing machine, I found it is from KEFAI company. We contact them at first, but to my surprise, KEFAI met many of our requirements and they customized a set assorted nuts bag packing machine for us. In the meantime, the customized nuts packing machine price is not too high, I think it is very suitable. So, if you are searching for a packing machine, please choose Kefaimachine."

——  Caleb, a customer from Bulgaria
Without Manual Participation
The whole production line is done by machine. Automatic control of a series of processes from bag making, forming and sealing. Automatic process reduce production cost and improve packaging efficiency.
PLC Control
Using PLC control, the nuts packing machine provides flexibility to adjust time Settings. Use tool-free replacement parts for easier cleaning, maintenance, and replacement.
Precise Packaging
The integrated combination scale ensures accurate filling and packaging at high speed.
Easy to Maintain
It is very easy to clean and take care of. It does not need to be completely disassembled and reinstalled.
The Frequently Asked Questions about Nuts Packing Machine
Our nuts packing machine can complete the work quickly and accurately.
How much is a nut packing machine ?
The prices of different nut packaging machines are different. If you need a packaging machine, or you can tell us about your products, we can be responsible for considering a package plan for you and telling you the price of the machine.
What to do if the purchased packaging machine has problems?
Please contact with our customer service staff and tell us your problems you meet. We will reply you soon, and if you need, we can also communicate by video call. We'll show you how to do it. If the problem cannot be solved, you can apply for return.
Can you provide customized machine service?
Yes. We are able to customize the machine according to your practical needs.