Multihead Weigher
Higher Weighing Accuracy: The multihead weigher adopts weighing material inspection, which can accurately control the feeding time.
Automatic Detection: KEFAI's multi-head scale weighing machine has high-speed asynchronous discharge that can effectively prevent material clogging.
Stainless Steel Overall Structure: The hopper and chute of KEFAI multi-head weighing machine are all made of 304 stainless steel to ensure the hygiene of the material after contact with the weigher machine.
Intelligent Design: The weighing bucket of this weigher machine adopts an ultra-low vibration design, and the material damage or accumulation can be prevented by cutting the material in turn.
Product Section
This two head liner multi-head weigher is suitable for quantitative filling of powdered and small granular materials. It is an intelligent microcomputer, high-precision electronic weighing machinery.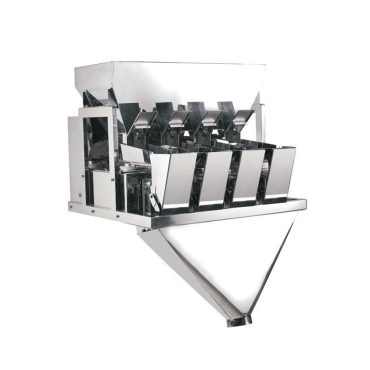 This is a 4-head linear multi-head scale quantitative weighing machine for powder and particle materials. It is equipped with four weighing buckets with a capacity of 3 liters.
The ten-head multihead weigher can weigh multiple materials at the same time to perfectly realize the packaging of mixed materials, and the parameters can be changed anytime.
Fourteen-head multihead scale weighing machine adopts high-tech modular control system. This machine can replace manual labor, you can greatly save your production costs.
This high-speed mixing combination scale weighing equipment has a stable aluminum shell structure, which ensures that the hopper can operate stably and the readings are more accurate.
Multihead weighers are generally used in the food and daily necessities industry in most cases, for example, they can be used to pack small particles such as snacks, candy, nuts, grains, potato chips, coffee beans, dried fruits, chocolate beans, popcorn, tea leaves, seeds, and other and high-precision quantitative weighing of small quantities.
KEFAI's multihead weighing machine is a large machine composed of a 10 head multihead weigher or 12 head multihead weigher or other number of multi-head scales which can accurately measure the weight of the product. By the way, in most situation, we use a multi-head scale in combination with a packaging machine.
Experienced Multihead Weigher Supplier
We have 15 years of experience in the multihead weigher and packing machine industry and a first-class technical team. We create the most powerful brand by manufacturing the top equipment, the best machine performance, and the best service attitude, and fastest delivery speed. We have established friendly cooperative relations with many customers, we are mutually beneficial and win-win, and we will create a better future together. We hope that through our introduction, you can be interested in our products.
Available in Combination
KEFAI's multi-head scale can be used in combination with various packaging machines, whether it is a vertical machine, a horizontal machine, or a bag feeding machine, it can be combined into a weighing and packaging production line. Not only that, it can also be equipped with a feeder, which can automatically lift the material and then carry out subsequent weighing and packaging work. In addition to packaging machines and hoists, there are also working platform metal inspection machines, finished product material management machines and other machinery that can be equipped with multihead scales weigher.
The Frequently Asked Questions about Multihead Weigher
What is the weighing range of the multihead weigher?
The weighing range of our multihead weigher machine is from 8g to 3000g.
What is the maximum weighing speed of the multihead weigher?
The maximum weighing speed of our multi-head weigher machine is 60 to 120 package per minute.
Can your multihead weigher realize our hybrid weighing project?
Yes, for example, you need to mix 4 weighing products with the required ratio and the final total weight. The multi-head scale weighing machine can weigh each product separately to ensure the required ratio, and then develop a unique automatic mixing system to ensure the total final weight.