Introduction to Milk Powder Packing Machine
The milk powder packaging machine is used widely. The powder product packaging machine can be used to package coffee, milk powder, starch, chili powder, additives, pesticides, and other powder products. You can use our KEFAImachine packaging machines.
KEFAIMachine guarantees to provide you with a clean and efficient milk powder packaging process. The KEFAI packaging machine uses a spiral filling system when packing powdered products for greater precision. In addition we have other mechanical equipment can form a complete set of packaging line. For more information and customizable packaging solutions, contact us directly.
Meet All Your Needs for the Equipment
KEFAIMachine has many milk powder packers for you to select. We can recommend a suitable milk powder packaging machine for your milk powder production factory according to your needs. If you want us to give you a customized milk powder packer machine, we also could do it.
In addition to stock products, KEFAI Machine also can provide customized machine services. Our engineers have over 20 years of rich technical experience, We guarantee that we can make milk powder packaging machinery to your satisfaction.
Make More Profit
The milk powder packaging machine can reduce the production cost of enterprises by completing the packaging operation . Because after the use of the milk powder equipment, can greatly save manpower, reduce the loss, greatly reduce the labor cost.
At the same time, it also significantly reduces the labor intensity of milk powder packer operations. And  the work volume of employees is able to be greatly improved, which is more conducive to the development of enterprises. This series of high-efficiency milk powder packing operations can make the milk powder making factory's profits higher and higher.
Product Section
KEFAI Machine can supply you with the aseptic milk powder to guarantee food safety.
A vertical form fill seal (VFFS) machine is the ideal choice for automatically packing the milk powder in a pouch which is formed from the film. The pakcaging of milk powder products starts with a large roll of film, form it into a bag shape, fill the bag with product, and seal it.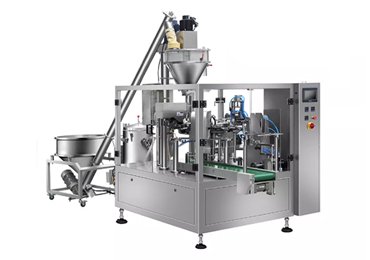 The filling and packing machine is an ideal choice for automatically loading milk powder into prefabricated bags. The premade pouch milk powder packing machine is a rotary layout. This rotary design saves plant floor space and is more popular than the inline model.
KEFAI Machine can provide you with the best milk powder pouch packing machine. The milk powder sachet packaging machine is not only vertical, but also is an automatic model. It can be used for the packaging of various small bag packaging of powders.
This powder packing machine is used in the filling of milk powder and matcha powder which need tin can packaging.
It is an automatic milking powder packing machine which can pack powder materials with portable stick pack.
500g is an ordinary small bag packaging volume. And it is a normal vertical packaging machine in daily use.
Information about Milk Powder Packing Machine
The Feedback from Our Customers
"We compared many China milk powder packaging equipment suppliers. Finally, we still choose KEFAI. KEFAI's professional reply impressed me so much. They have been so helpful to me. Without them we wouldn't be as productive as we are today. If you need a packing machine, be sure to choose KEFAI."
——Mr. Zephaniah, a customer from Ukraine
---
 "I didn't expect it to arrive so quickly. This efficiency is really fast. KEFAImachine's staff had one-on-one video communication with us to install and debug the machine, and everything started to work. Now our production is also very smooth, it all thanks to KEFAI's help."
—— Mr. Haley,a customer from Lithuania
---
"We are a manufacurer specializing in selling raw materials of milk tea powder, and we really need a milk tea powder packing machine. I happened to see KEFAI's products. I went to learn about KEFAI and found that it was fine and cheap. So we decisively bought the KEFAI machine. I got it and it worked surprisingly well. Thank you, KEFAI!"
—— Mr. Mortimer,a customer from Panama
Variety of Packaging
This machine can pack the powder granule materials which are easy to flow and have poor fluidity, such as milk powder, rice powder, sugar, feed, coffee, solid beverage, pesticide and so on.
High Packaging Precision
The use of high-precision weighing sensor and weighing module is capable of solving the problem that the weighing precision of the traditional packing machine is not high.
Intelligent Control System
The milk powder packing machine has a more integrated and intelligent control module to ensure the automatic operation of powder packaging machine. Thus, to further improve production efficiency, cost-saving packaging enterprises can also be achieved.
Long Life
In general, the use of powder packaging machine environment is very special, it will be made of stainless steel, corrosion resistance, oxidation resistance, compared with traditional packaging machine life is longer, more stable.
The Most Fequently Asked Questions about Milk Powder Packaging Machine
Can this milk powder pouch packing machine suitable for different materials?
Yes, as long as your materials meet the packaging requirements, the product specifications do not exceed the maximum range that the machine can pack.
How long does it take to produce powder packaging machines?
According to many factors, we are usually equipped with stock and can deliver the goods within 5 working days. Custom-made machines need more time, please contact our customer service.
How to clean powder packing machine daily?
Cleaning work. After the milk powder packer is shut down, it is necessary to clean the metering part in time and often clean the heat sealing body to ensure that the sealing lines of the finished products are clear. The scattered materials should be cleaned in time to facilitate the clean parts and prolong their service life better. At the same time, it is necessary to clean the dust in the electric control box frequently to prevent short circuits or lousy contact and other electrical faults.
Lubrication work. It is necessary to fill oil to lubricate the gear meshing place, the oil-filling hole of the bearing with the seat, and the moving parts regularly, once per shift. The reducer is strictly prohibited to run without oil. When filling lubricating oil, it is necessary to pay attention not to put the oil tank on the rotating belt to prevent damage caused by skidding or premature aging of the belt.
Maintenance work. Before using the powder packing machine, it is necessary to check the screws in each part, and there should be no loosening. Otherwise, it will affect the normal far rotation of the whole machine. For the electrical parts, attention should be paid to waterproof, moisture-proof, anti-corrosion, and anti-rat work. To ensure that the electric control box and wiring terminals are clean, to prevent electrical failure, after shutdown, should make the two heat sealer body in the open position, to avoid the burning of packaging materials.