Introduction to Liquid Soap Filling Machine
KEFAI liquid soap filling machine is not a device with significant limitations. Our liquid soap dosing machine is quite suitable for many fields such as chemical, pharmaceutical, pesticide, and even food industry. In addition, the liquid soap filler is capable of dealing with liquids of great stickiness.
Our liquid soap filling equipment can be your best helper in handling varied categories of liquids and pate. When the commissioning is done, the machine does not leak at all, which reduces a lot of trouble. The servo motor of our liquid soap filler machine can effectively control the accuracy of the filling volume and the machine has a long service life.
One-Stop Filling Scheme
KEFAI filling machines are small in size but have a large filling range. Our liquid soap filling machines are quite responsive and there is basically no delay. Compared with fully automatic liquid soap fillers, our semi-automatic liquid soap dosers are more popular with the customers. Besides, we can provide you with complete line solutions for filling and packaging of various products if you need it. The filling heads of our liquid soap filling machines are made of 304 stainless steel to make your products clean and hygienic.
Exquisite Crafted Design
The research and development team has always tried to create some innovation or improve skills. At the same time, the production and design of the liquid soap filling equipment also conforms to the GMP standard. Any parameter and running situation of the filling machine for liquid soap can be displayed on the touch screen. Each single system is able to regulate rapidly to ensure that there is no mistake in the entire production and packaging process. Our hopper is also designed with special enlargement, and the enlarged hopper can hold more materials at one time to save your time.
Product Section
KEFAI liquid soap filling machine is of great quality and perfect performance.
The filling volume of hand sanitizer filling machine can be customized if yours is relatively special. The surface of the equipment body is very smooth .
KEFAI liquid detergent filling machine can use two-way mixing to achieve full mixing of materials. It is fairly convenient for you to have operations.
KEFAI shampoo filling machine allows you to choose from manual action and point action. In addition, you can also select one pump according to your requirements.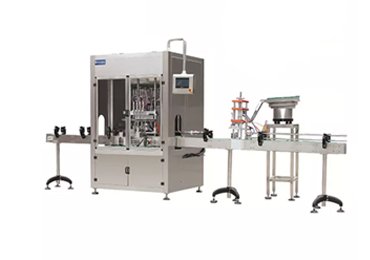 KEFAI liquid soap bottle filling machine is able to accommodate a wide range of bottle sizes without the need for replacement parts.
KEFAI liquid soap sachet filling machine can quickly complete the change of material varieties less than 10 minutes.
KEFAI spout pouch liquid soap filling machine has a silicone tubing that can withstand temperatures of 120 degrees without decomposition.
Information about Liquid Soap Filling Machine
The Feedback from Our Customers
Liquid detergent is very necessary in our daily life so we need to produce a great deal of liquid detergent for using. KEFAI 500g liquid soap filling machine is really helpful. After using your liquid soap filling equipment, our packaging speed has been improved a lot.
——Monroe, a customer from Mexico
---
Four weeks ago, I bought this filling machine for liquid soap. It was such an efficient device that we produced plenty of related products for sales in the market. What satisfies me most is that the liquid soap filling machine is extremely user-friendly. Our engineers are able to learn how to operate this equipment rapidly.
——Vincent, a customer from Ukraine
---
The semi automatic liquid soap filler is working very well. For different bottles, it can all fill liquids perfectly. And the finished products do give us a big surprise. We love this filling equipment very much. Thanks for the efforts of all the members.
——Ulysses, a customer from Estonia

Huge Compatibility
We can show you how powerful our liquid soap filling machine is through its own system. KEFAI filling machine for liquid soap is able to adapt to the packaging of multiple shapes and specifications.
Compact & Convenient
The liquid soap filler machine is a vertical model so the occupied space of the equipment is relatively small. It will not take up a lot of as much area as a large horizontal machine.
Stable Performance
KEFAI Machine can tell you that our liquid soap filling equipment is full of wonderful performance. Even though the filling equipment has worked for a long time, the speed and the steadiness of it will not diminish one iota.
No Dripping
KEFAI Machine knows that the biggest concern of our customers is the dripping of liquid. Hence, our filling machine for liquid soap adopts an anti-drip structure to solve the problems like this.
The Frequently Asked Questions about Liquid Soap Filling Machine
How to keep the liquid soap filling machine in a good condition?
All you need to do is maintain and clean your equipment regularly to keep it dry. Then, after a long period of operation, the liquid soap filling equipment must be fully dissipated.
How long will it take to ship this liquid soap filling machine?
Actually, it will not take too long and the liquid soap filling machine can be shipped within two days at the earliest.
Is your liquid soap filling machine durable in use?
Yes. Our liquid soap filling machines control circuit components are made of well-known brand accessories. Thus, the liquid soap filler owns strong stability and durability.