Introduction to Ice Packing Machine
KEFAI ice packaging machine is suitable for high precision measurement and fragile packaging bulk objects, such as candy, puffed food, rice, sweets, snacks, chocolate, hardware, ice cube, and so on. All the ice you need to pack, we all can pack it.
In addition, KEFAI Machine also produce other similar packaging machines like ice pack machine, ice cream stick packing machine, ice candy packing machine, ice lolly packing machine, ice pop packing machine. At present, KEFAI Machine company has developed and produced a variety of models of machines, which have received a great deal of praise in the industry for their good performance, mature technology, easy operation, easy maintenance, safety and durability, and have met the needs of our customers. No more worries about packing ice cubes once you have used our ice packing machines.
Compatible with Different Forms
Ice is so widely used that many companies producing ice cubes are competing to appear. KEFAI ice packaging machine manufacturers have developed a variety of models of large vertical ice packaging machines for this problem. KEFAI ice packing machines can pack industrial ice, edible ice, clear ice and crushed ice in a range of measurements up to 10 kg.
KEFAI large vertical ice cube packaging machine is able to replace the manual in order to get the maximum benefit for you.
Maximize Working Efficiency
Large vertical ice cube packing machine adopts flip-collar shaping bag forming machine to pack beautiful and complete finished products. KEFAI ice packing machines adopt Z type sealed material elevator, which can be loaded automatically without manual loading. This is convenient and fast and the efficiency will be faster. The ice packing system adopts double head screw weighing machine or multi head weighing machine, which can weigh quickly and accurately without manual weighing. The combination of both improves the working efficiency and also reduces labor cost.
Product Section
KEFAI Machine will make you have an abundant choice of ice packing machines.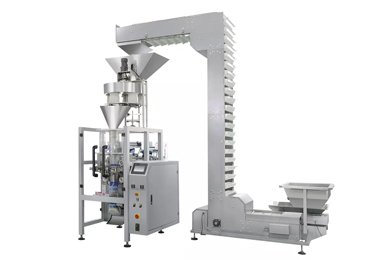 ce cube packing machine has the feature of waterproof, moisture-proof and anti-clogging, which is suitable for automatic weighing and bagging ice particles, edible ice, 5kg ice, etc.
Our ice pop packing machines own good quality, fast packing speed, and more perfect packaging. The ice pop packing machine is able to help you enhac the production efficinecy.
The pillow bag ice cube packing machine whole set includes material elevator, multi-head weighing system, Vffs packing machine and conveyor.
The big bag ice cube packaging machine can pack large quantities of ice in large bags of 1 to 10kg. It can reach 10 to 60 packs per minute.
This type of ice packing machine is suitable for packing small bags of ice, and the weight error of each bag will not be more or less than 2g.
You can choose flow pack ice cube packaging machine for packaging ice, horizontal packaging machine can work continuously
Information about Ice Packing Machine
Customer Feedback
"Last month, I asked KEFAI to customized a ice packaging filling and sealing machine for my factory. KEFAI gave me a progress report very quickly and gave me a video of the machine, and the delivery was quick and the shipping time was not too long and I received the goods very quickly."
—— Mr. Pavan, a customer from France
---
"I want to buy a ice candy packaging machine for my production. Then I find KEFAI Machine. The pictures of their products are already very attractive and the real thing is even more amazing to me."
—— Mr. Mohamed, one customer from Italy
---
"I need a 1kg automatic ice cube packing machine, then I saw KEFAI's ice bag packing machine online. It is a fully automatic packing machine for ice, and it has many advantages, so I quickly ordered it."
—— Mr. Simon, one of our customers from Russia
Reliable Quality
The whole ice packing machine is made of 304 food grade stainless steel, which meets the national food safety requirements. You can use one of our machines with peace of mind.
Reasonable Pricing
The ice packing machine price is so cheap that customers can afford. In addition, KEFAI ice cube packing machine has the advantages of low investment and high return.
PLC Control
KEFAI ice packaging machine has an intelligent system controller, and different parameters is able to be easily adjusted.
Safety Protection
KEFAI ice packaging machines are equipped with perfect automatic alarm protection, which will reduce the loss of product material and can help to troubleshoot in time.
The Frequently Asked Questions about Ice Packing Machine
What are the advanyages of your ice packing machines?
Compared to ordinary packaging machines, the difference is that KEFAI has designed and developed a special screw metering device for packaging ice cubes. The relevant characteristics of the ice cubes have been taken into account so that the ice cubes can be packed smoothly and without blockage when using the automatic ice packaging machine. The ice packing machine is also equipped with a cooling device, a pre-clamp device, a pallet device and other devices to pack ice cubes.
What is the configuration of your ice packaging machine system?
Our control system uses a full set of world-renowned electrical components such as Siemens and Panasonic to ensure the stability of the machine. You can use our ice packaging machine with confidence.
Can you provide customized fully automatic ice packing solutions?
Of course. We specialize in customized machines in addition to our stock machines. Fully automatic ice packing machines using a tilting hopper loader, a special multi head screw scale for weighing and measuring ice cubes, a main machine for packing (the choice of model is mainly determined by the weight of the bags and ice) and a conveyor for the finished product, we can all provide a suitable ice packing solution for your needs.