Introduction to Honey Packing Machine
KEFAI Machine honey packaging machine is able to easily deal with sticky liquids like honey. Moreover, there exists no leaking phenomenon for our advanced honey packaging equipment. KEFAI Machine is a leader in the design and manufacture of packaging machines for different types of liquid, dense and paste products.
The honey packaging process can be carried out in various forms according to the needs of the production enterprises. KEFAI is able to design different types of machinery according to the requirements. I hope it can help you. If you have any other questions, please feel free to consult us.
Faithful Honey Packing Machine Supplier
The use of KEFAI Machine for processing and packaging is fairly fast, which can reduce labor costs and greatly improve efficiency. There are so many honey packing machine factories, but KEFAI Machine's products will not let you down, and whoever used all said it is good. We are always concerned about customer needs. As long as you needs our assistance , we will do our best to help you. We are able to  give us your automatic honey packing machine quotes if you have interested in our machinery. Please contact KEFAI Machine customer service staff right now.
User-Friendly to Save Your Time
To minimize operator intervention, all machines operate in automatic or semi-automatic model. In practice, you have to set the initial Settings through the control panel and then supervise the normal operation of the machine.
The panel of KEFAI honey packaging machine has the advantages of a simple icon interface that is clear and intuitive and accessible through the touchscreen panel. You only need to set the parameters to start using the machine.
Product Section
We firmly believe that KEFAI honey packing machine will bring you the best eperience of use.
Look at our automatic sachet honey packing machine, it is mainly used for honey filling and sealing into the plastic sachet.
Our KEFAI China honey stick filling packing machine is so popular that there are so many people want to buy our stick pack packer.
This machine can finish forming bag, measuring, material filling, sealing, counting, coding and othe work automatically.
The bottles can fill more volume of honey and are specailly common honey packaging containers in household use.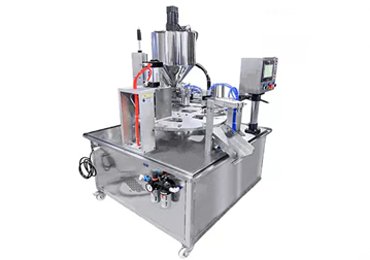 KEFAI honey spoon filling machine is a model of hot sale, which can be used to fill a quite small capacity of honey.
The automatic rotary packaging machine uses precision indexing device and PLC control to regulate each action and station.
Information about Honey Packing Machine
Customer Comments
 "I chose KEFAI without hesitation. Their customer service staff is also professional. After communicating with them, I was very satisfied. They give me a so wonderful packaging solution. Actually, it is so nice for my production. Thank you very much!"

—— Chad, a customer from Mexico
---
 "I have to say, you're gonna regret if you not choosing KEFAI. I have been an old customer, the last KEFAI machine we used for several years there is no big problem.

—— Abel, a customer from Iceland
---
 "KEFAI customized a packaging machine for me, I think this is great, KEFAI is not only very professional, but also in the interests of our factory. This experience is very happy, I hope we can continue to work with KEFAI in the future. Thank you."

—— Abbott, a customer from Austria
Superior Quality
We have a high quality honey packing machine. We have many years of experience in packaging technology and a professional team. So the machines we produce also have the advantage of high performance.
Low Price
KEFAI honey packing machine price is cheaper than other China automatic honey packing machine factories. Not only the price is low but also the quality is very good. It is worth buying and winning the favor of many customers.
Stainless Steel Materials
We use stainless steel which is an easy to clean and replace material to eliminate long processing pauses and reduce waste materials.
Compact Construction
The machines are designed for indoor packaging, and even those of smaller dimensions, all models are compact and functional to suit production requirements.
Quality First & Equitable Price
We assure you that our honey packing machine is in line with the requirements of Quality Safety.  Contact us to find out more.
How fast is your honey packaging machine ?
The packaging speed can be set depending on your production needs. About 100-200pcs per min.
Is the honey packing machine easy to clean?
Yes. It is a type that can be cleaned quickly without wasteing too much time.
What are the advantages of using honey packing machine?
1. High EfficiencyTraditional manual packaging production efficiency is relatively slow and easy to lose materials, with automatic packaging machine instead of manual packaging can efficiently complete the feeding, measuring, bagging, printing date, product output all the production process. This kind of mechanized assembly line production has high measurement accuracy, fast efficiency, saving materials and reducing labor costs.2. Energy Saving & Environmental ProtectionIn general service good automatic packaging machine have automated testing this feature, so for those unqualified packaging products to intelligent automatic screening machine again, improve the qualified rate at the same time also does not waste material, but also in reducing the shrinkage to maintenance and operation, reduced the production cost to a great extent.