Gusset Pouch Packing Machine
Fully automatic: Our gusset pouch packer can automatically complete lifting materials, weighing, measuring, coding, bag making, filling, etc.
Fault Alarm: When a fault occurs, the specific cause can be notified  so that it can be eliminated in time.
Intelligent Control: It adopts PLC servo pneumatic control system and intelligent touch screen to form a drive control center.
Excellent: The hopper of the fuselage or part of the material in contact with the material uses 304 or 316 stainless steel to ensure the original safety of material.
Product Section
This type of gusseted pouch packaging machine can pack many granular things like nuts, walnut, and other delicious food in a gusset stand up pouch.
The powder  gusseted pouch packing machine can automatically feed materials, automatically form bags, fill materials, and seal gusseted pouches.
Description
Packaging Examples
The gusset pouch packing machine is suitable for food, pharmaceuticals, chemicals, many powders and granules. At present, the need to make this type of bag is to rely on a special device for insertion and folding when the packaging bag is sealed. This gusset pouch packing equipment can automatically heat seals the packaged product by filling the material into the corner bag, and can be equipped with a device for printing the production date.
KEFAI Machine is a leading gusset pouch packing manufacturer on the market. We have many types of automatic gusset bag packaging machines that can target different materials. In addition, we can make punching devices for gusset pouch packing machines according to customer requirements.
Dazzling Machine Series
KEFAI Machine has more than a dozen series of packaging machines, and we have excellent technology and a wealth of experience. KEFAI Machine has online services, and we also customize various mechanical packaging machines in different fields for customers such as OEM/ODM services. KEFAI Machine is a pro packing machine manufacturer, which has more than ten years of experience in the manufacture of packaging machines. If you have any questions or needs about the gusset pouch packer, you can ask us, and our customer service staff will have in-depth exchanges with you.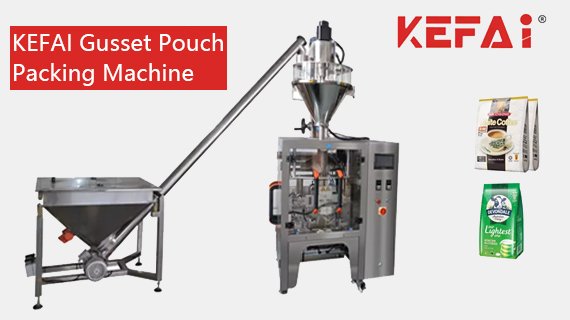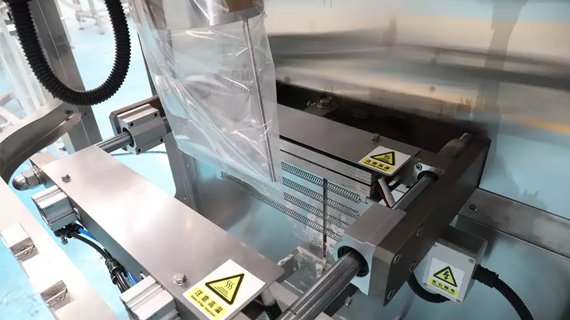 High Efficiency
Our gusset stand up pouch packaging machine adopts an advanced operating system, which is easy to use and can be reprogrammed. This fully automatic weighing, forming, filling, and sealing gusset pouch packers are very time-saving and labor-saving. The low price of the packing machine not only reduces the purchase cost, but also increases profits through rapid and efficient production.The gusset pouch packer machine adopts imported famous brand electrical and pneumatic components, which have stable performance and guarantee the advantage of high efficiency.
The Frequently Asked Questions about Gusset Pouch Packing Machine
How is this gusset bag packed by the packing machine?
To create corner pockets, a special corner insertion device for vertical and automatic gusset bag packaging machines is required.
What kind of packaging film material is suitable for the gusset pouch packaging machine?
KEFAI Machine automatic gusset bag packers are suitable for all kinds of plastic and laminated films such as OPP/CPP, OPP/CE, MST/PR and other materials.
Is the packaging speed of your gusset pouch packing machine fast?
Yes, our automatic gusset pouch packaging machine can pack up to 50 packs of products per minute at the fastest.