Introduction to Frozen Food Packaging Machine
KEFAIMACHINE frozen food packaging machines make it easy to produce individually frozen food (IQF), fruits, vegetables, seafood and meat in bags. While the earliest technology of frozen food is to use cold weather to freeze food. Now food preparation technology has made great progress. 
KEFAI Machine has the best frozen food packaging machine. We have many years experience of manufacturing packaging machines about packing various food. In addition, we also have cooperation with many industry companies. KEFAI Machine is trustworthy for you all the time.
The Outstanding Assistant in Frozen Food Packaging
KEFAI Machine can provide you with comprehensive support : we have developed systems for various industries such as frozen food, coffee, candy, dry noodles, flour and snacks. Based on the unique characteristics of your product, we have defined the right concept of sustainability.
With our guidance and comprehensive service, you will be able to put your products to market smoothly. Industrial producers often look to us for sustainable packaging solutions. This is because they trust us and the quality of our frozen food packaging machinery.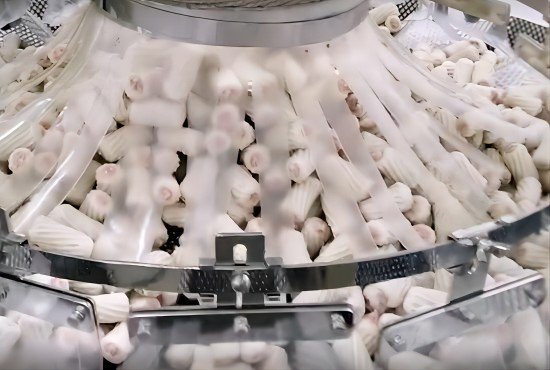 High Efficiency to Enhance Your Productivity
Frozen food packaging machine is mainly suitable for frozen dumplings, meatballs, vegetables and other frozen food for automatic packaging so that its packaging ability is quite efficient.
This automatic frozen food packaging machine owns high speed, high efficiency. The frozen food packer can complete a multi processes: bag making, marking, labeling, weighing, packaging, sealing and other operations.
Product Section
KEFAI Machine is able to make you satisfactory in the whole process of frozen food packing.
Our vertical form filling and sealing machine models are available for retail, bulk packaging. Vertical packaging is easy to use, compact structure, low unit cost, is very popular in frozen food packaging.
Flow packaging is a horizontal packaging in which a product is wrapped in a film. A tightly mounted flexible package with a horizontal back seal and a top or bottom vertical seal can be fulfilled.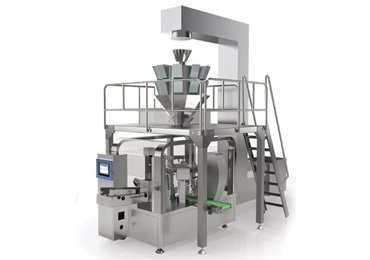 The automatic frozen food packing machine is designed to automatically open, fill, and seal bags, including laminated or polyethylene materials, doypack pouches, etc.
It is a multifunctional vacuum packaging machine with wide usage, easy operation and convenient maintenance. The vacuum is drawn into the bag and then sealed, effectively improving the freshness of the food.
The rotary packing machine with Chinese and English touch screen rotary external touch screen design is easy to operate and user-friendly. The whole machine runs smoothly, positioning is accurate, and also the machine runs fast.
Information about the Frozen Food Packing Machine
Customer Reviews
"We have found a machine here that suits our needs at KEFAI Machine. The four-head weigher frozen food packer is reliable, stable, and the packaged product is of good quality, which puts us ahead of the competition of our peers."
—— George, a customer from Sweden
---
"We need a vegetable packing machine, and we choose KEFAIMachine in the end. The fully automatic frozen food packaging design is beautifully, and it is powerful and excellent. If we need other packaging machinery in the future, I think we will still choose to buy from KEFAI."  
—— Bruce, a customer from Portugal

---
"We had a small problem when we received the 500g frozen food packaging machine, but fortunately we contacted KEFAI customer service staff and they solved our problem in time. Overall, it was a satisfactory transaction."
——Elliot, a customer from Serbia
Bag Punching
The frozen food packer machine can choose round holes and aircraft holes, which has a great punching effect. Moreover, the hole is beautiful and smooth without burrs.
Clean and Healthy
It is applicable to clean workshop, in line with health standards. The machine with 304 Stainless steel appearance, there is no excess impurities during packaging.
Quick Adjustment
This machine can save a variety of parameter data, simple replacement varieties. The servo motor is used to pull the film to make the material positioning more accurate.
Fresh Finished Products
The frozen food packaging machine is equipped with a coding machine, marked on the packaging production date, shelf life can be checked, so that customers rest assured enough to buy.
We promise that you will recieve a frozen food packer that is value for money here
Now give us a call so that you can know the lastest price.
What certificates do you have?
We have CE certificate, ISO quality certification enterprises, a number of export certification, etc.
What problems should be paid attention to when packaging frozen food ?
1. Bag impact resistance is poor, transport, handling, shelves placed in the process of vulnerable to external force damage, prone to broken bags, bag opening phenomenon.
2. Bag itself slippery is not good, the performance of the production process for poor opening, low production efficiency, but also to reduce the utilization rate of packaging bags, resulting in waste of costs.
3. The heat sealing strength of the packaging bag is not enough, the heat sealing temperature is too high to cause the damage of the heat sealing layer, resulting in the protective performance of the packaging bag is reduced, the shelf life of the content is greatly shortened.
What is the advantage of your frozen food packaging machine?
The parts of our frozen food packaging machines that come into contact with the material use special environmentally friendly materials that meet national hygiene requirements. Our frozen food packaging machine has a high degree of automation, high packaging precision, simple operation and fast packaging speed, which can reduce the manpower investment for frozen food manufacturers.