Introduction to Flour Packing Machine
Flour packaging machines are machines produced for the preparation of pellets or powders in the required number of grams or kilograms for packing, which are weighed by a multi-head weighing system and packed by filling them into an automatically prepared vertical packing machine. At the same time, this flour packaging machine can also be packaged other powder materials, such as laundry detergent, spices, spices, chili powder and other powder materials.
KEFAI has ability to product a high quality flour packer machine. Meanwhile, it is also a low price flour packing machine. Conventional flour packaging lines are equipped with dust removal systems, automatic bag sealers, belt conveyors, weight and metal detection equipment, conventional palletizers and packaging machines. You can choose between automatic flour packer or manual flour packer, all according to your budget.
Perfect Service Sysytem
KEFAI Machine has a large number of automatic flour packing machines and other auxiliary equipment for you to choose from. You are allowed to see our product range to customize the flour packaging line for your flour projects. We have more than 20 years of mechanical experience of expert engineers, so that our engineers can design industry-leading bagging machinery.
Compared with other flour packing machine suppliers on the market, you can buy KEFAIMachine 's bagging machines and equipment at a more competitive price without affecting the quality and durability of the machine. That's why KEFAIMachine can stand out from other flour packing machine manufacturers.
Quality Guaranteed
All of our flour packers come with a 12-month warranty and lifetime technical support service. During this period if your machine has any parts that are not humanly damaged, we can replace them for free.
If there is any problem with the flour packaging mahchine and you can not solve it, you can contact us and our experts can communicate with you. If necessary, we can provide one-on-one guidance via video communication with your operator. Therefore, you don't have to worry about using our flour packers.
Product Section
KEFAI Machine has enough experience to offer you the most suitable flour packaging solution.
The sachet flour packaging machine is divided into back seal, three side seal and four side seal according to the sealing method. It is widely used in food, daily use, medicine, etc.
Automatic flour paper bag packaging machine is the use of environmentally friendly bags. There is also a flour packing machine for kraft paper bag similar to this.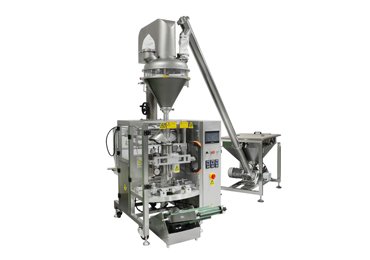 Large bag flour packaging machine can pack large weight flour powder materials of 15 kg and 25 kg. It is suitable for companies that need large bags for packaging.
Although the manual flour packing machine is time-consuming and labor-intensive, it saves a lot of money.
The semi-automatic flour machines are not as efficient as automatic packaging machine, but it is value for money.
The automatic flour packing machine has many advantages. It is efficient, and it It does not require too many people to monitor.
Information about Flour Packing Machine
The Feedback from Our Customers
"This flour packing equipment workmanship is quite good, and easy to use, weighing is also very accurate, is the need to set up a little more, see the manual will be able to set up, are quite simple, and KEFAIMachine are debugged and then sent to us, there are problems can also ask them again, they are very friendly. Stainless steel machines look more high-grade, if you need it, you will definitely buy this again!"
—— Mr. Zephaniah, a customer from Cuba
---
"KEFAI has lower flour packing machine pricewhich successfully attracted me. The most important thing is that it saves time and effort, a machine can top five people's work, the efficiency is very good. Next time I will introduce other friends to buy."
—— Mr. Frank, a customer from Estonia
---
"Kefaimachine has the best 1kg flour packing machine. The machine works quite well, especially let the store customize for us with a 1kg flour packaging equipment. We are full of praise for Kefaimachine's technical aspects, they are definitely very professional. We compared a lot of houses before buying the packaging machine and finally chose here. KefaiMachine is really good, and they are very patient to explain to me the notes."
—— Mr.Marcus, a customer from Hungary

No Waste
KEFAI flour packaging machine can realize the full filling of the powdery products, which reduces the waste of raw powder materials.
High Quality
All KEFAI devices have been tested by national testing institutions, with accurate, high-speed and stable characteristics.
Electronic System Control
The electronic system controls the whole process of filling, just click on the touch screen to enter the specific value and the machine will automatically fill the corresponding volume accurately.
Professional Service
We have experienced customer service personnel who are in constant communication with our customers to ensure that the machines meet their needs and to keep them up to date on their progress.
The Frequently Asked Questions about Flour Packaging Machine
Do you have manual flour bagging packing machines ?
Yes, we offer manual, semi-automatic and fully automatic flour bagging models.
What auxiliary devices do you offer ?
We are a bagging solution provider, so we also provide many auxiliary machines to help you set up your bagging line. For example, metal detectors, weight detectors, palletizers, stitching machines, etc.
How will you test my flour packaging machine before shipping?
For each completed setup of machine components, we will test to ensure that the modules are functioning properly. We also test the entire machine twice before shipping, empty and with material, to make sure the machine is running well before shipping. We will take a video of the machine running at the factory, or if you need, you can send us a sample and we will take a good video photo to show you the packaging effect.