Doypack Packing Machine
Wide Range of Pouches: This doypack  machine applies to many premade pouches like flat bottom bags, gusseted bags, and stand up pouches with or without zipper.
Easy to Adjust: KEFAI doypack packer is so popular that it is only takes 10 minutes to change different premade stand up pouches which is very easily and quickly to use.
Operate Easily: The stand up pouch packer machine has an intelligent PLC and a colour control panel. If there has a fault occurs, the panel will indicate the fault.
Hygienic Construction: The stand up pouch packaging machine contact parts are adopted sus304 or 316 stainless steel. This type of machine is safe and easy to clean.
Product Section
KEFAI doypack with spout packing machine is always can package many liquid and paste materials like milk, ketchup, sauce, beverage, jelly, and so on.
You can choose to pack the stand-up pouch with or without zipper. Doypack with zipper makes it easy to seal at any time. The quality of the contents is guaranteed.
The industrial uses of this 8 side seal doypack packing machine include various powders, foodstuffs, confectionery, grains, nuts, coffee beans, dried fruit, tea, snack, candy, etc.
The granule doypack packing machine has high speed stability and precise sealing. It is used in conjunction with the intelligent multi head weigher and the Z type lifter.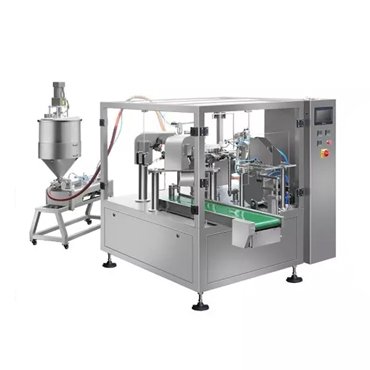 KEFAI liquid doypack packing machine is suitable for packaging various liquids materials such as juices, drinks, beverages, milk, and jellies in spout pouch bags.
KEFAI powder doypack packer machine can packaging for food, health products, cosmetics, chemicals, daily chemical powders and adopts a premade bag feeder.
Description
Packaging Examples
The doypack packing machine is suitable for packaging a wide range of cereals and solids as well as high precision and fragile materials such as snacks, sugar, biscuits, nuts, puffed food, chips, sultanas, peanuts, melons, pet food, chocolate, etc.
The wide range of KEFAI doypack packing machine applications will make it become your first choice. KEFAI doypack packing equipment is suitable for many types of production and packaging industries. All types of materials can be used, and the premade pouches with a unique look. There are many type of doypack, you can choose kraft paper bag, stand up pouch with spout, flat bottom bag, gusseted bag, quad seal side pouch, etc. You also can choose the bags with or without zipper. And we can provide you with a perforating equipment if you need it.
Top Choice for Doypack Packaging
Are you looking for the right doypack pouch packaging solution for your products? You have come to the right place! KEFAI Machine has many years experience of producing stand up pouch packing machine. KEFAI offers a professional customised packaging service based on the principle that the customer is the first priority. Our doypack packing machines have CE certificate, SGS certification. Our customers use it and say it's good. We are deeply qualified and we believe that professionalism builds brands and brands make the future.
Full Set of Equipment
The bag clamping device is placed in the bag slot to clamp the bags from the bottom to the top and in turn to the front of the coding machine to print the date on the bags. The bag-opening device is operated by means of a pneumatic pump device, which makes the suction cups automatically suck the bags, thus completing the bag-opening process. Three servo motors are built into the machine at the lower feed opening, automatically sensing the bags, with an accuracy of between 0.5g and 2g.
The Frequently Asked Questions about Doypack Packing Machine
How does your doypack packaging machine pack products?
We will leave the top or bottom of the bag open and then heat seal the bag after filling it with your product.
Can you help me with custom premade bag designs?
Yes. We can recommend the right and satisfactory relevant suppliers to you, saving you the time of searching for manufacturers again.
How do you deliver the doypack packing machine?
We can deliver by sea, by air, or by courier company. Their shipping costs and transit times vary, so please consider choosing the right shipping method.