Introduction to Coffee Powder Packing Machine
KEFAImachine coffee powder packaging machine is designed for various types of powder and granular products, such as milk powder, medicine powder, food powder and chemical powder, and so on.
KEFAIMachine is an outstanding China 1kg coffee powder packing machine manufacturer, exporter and supplier of the finest quality Machine. We have state of the art technology, using quality components and we have highly skilled professionals to manufacture this machine as per ISO standards. The automatic coffee powder packer offered by us is widely used by the clients for optimum usage in various industries. Moreover, clients can avail from us the best value for money machine that is leading in the industry.
Your Worthy Choice
The coffee powder packing machine is one of KEFAIMachine's main products, exported to Southeast Asia, Europe and America, South America, the Middle East and dozens of countries and regions. The coffee powder packers are well received by the users of various countries. We always adhere to the development strategy of "providing customers with the best quality products".
Tell us your requirements and bag style information, our professional team will provide you with the most suitable coffee powder packaging solution. And you can check more packing machines or packing solution.
Safety of Use
The coffee powder packing machine has safety door and emergency stop switch which can effectively ensure the production safety of operators. It has an automatic warning protection function to minimize losses. There is a self-diagnostic function for bag opening failure, in which case the machine will not fill and seal and will retrieve the bag. Besides, there are functions such as positioning function of hopper to prevent dropping, warning function of cartridge heater failure and warning function of cartridge failure. Therefore, our products are safe and reliable, please feel free to use our coffee powder packaging machinery.
Product Section
You can definitely gain a coffee powder packaging solution suitable for your actual requirements.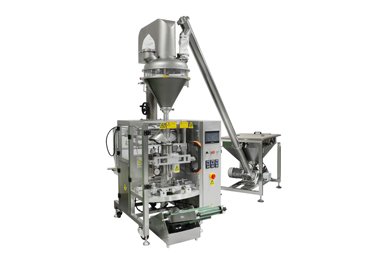 KEFAI Machine is capable of supplying you with semi automatic and fully automatic coffee powder packing machine. The automatic coffee powder packaging equipment is used to pack non-cohesive granular and powdery products.
KEFAI coffee capsule filling machine is suitable for packaging various powder products, the maximum packaging speed can reach 600 to 800 cups per hour. The machine is of customizable type and can be customized with cup shape.
KEFAI drip coffee bag packing machine is suitable for one-time packing of inner and outer bags of fine granular materials, which can pack 30 to 60 bags per minute and the packing capacity can reach 5 to 15 grams per bag.
As for coffee powder, sachet packaging is a regular one. We offer various coffee sachet packing machines to meet your requirements.
It is suitable for various granule material in premade pouch style, such as beans, nuts, dry fruits, candy, cereal, chocolate, biscuit, peanut, capsule, seeds, chemicals, sugar, etc.
This equipment is suitable for quad pack sealing bag packaging of coffee powder, which makes the packaging style of the finished products more beautiful.
Information about Coffee Powder Packing Machine
Listening to Our Customers
"The price of the 5g drip coffee bag packing machine is very fair, the packaging out of the effect is also very good, the quality of the machine is also very good, with so long the whole process is very smooth. The most important thing is that the factory's production costs have also come down."
——Mr. Canton, a customer from Mexico
---
"We compared many 1kg coffee powder packing machine factories, and then we found KEFAI. I think it is the best 1kg coffee powder packing machine with high quality. If you are looking for a 1kg coffee powder packing machine supplier, please choose KEFAI."
——Mr. Potter, a customer from Italy
---
"The fully automatic sachet coffee powder packaging machine was received very quickly, the shipping speed is really fast. The machine which we like so much  is affordable and good to use."
——Mr. Jenkin, a customer from Germany
Accurate Cutting
The photocell control penal of the coffee powder packaging equipment is equipped for accurate positioning of printed photo mark.
Minimize Error
The coffee powder packing machine has 304SS spiral packing for metering. This results in high precision and the error is approximately less than 0.2 grams per bag.

Widely Use
The coffee powder packing machine is suitable for a variety of bag types. It is easy to operate and easy to replace the bag.
Low Maintenance Cost
The coffee powder packing machine price is low, so even if there is a failure, the repair will not cost too much. The parts are modularly replaceable.
The Frequently Asked Questions about Coffee Powder Packing Machine
How is the packaging of coffee powder?
The whole bean coffee or freshly-ground coffee is typically packaged in valve-sealed bags or vacuum-sealed bags, while instant coffee is often packaged in vacuumized sealed jars, cans, or other airtight packaging.
How fast is the coffee powder packaging machine?
The speed of the coffee powder packer is usually expressed in terms of bags per minute (BPM), which is how many finished bags can be completed per minute. The coffee powder packers will usually have a maximum bag per minute rating. Generally, automated flexible packaging machines are rated at 30 to 300 bags per minute. However, the actual production speed depends on a number of factors. Your product characteristics, bag size and style, plant environment and operator skill level all affect the actual speed. The best way to estimate actual production speeds is to send film/bag and product samples to the packaging machine manufacturer for testing.
How does the manual coffee packaging equipment pack coffee powder?
If you want to package your coffee manually, we recommend that you choose a bag style with a wide enough top opening. At the same time, square-sealed bags or flat-bottomed bags are very popular choices. They usually have four corners at the top opening, giving more space for filling tools.