Introduction to Coffee Capsule Filling Machine
KEFAI coffee capsule filling machines are suitable for filling powder materials such as coffee powder, matcha powder, protein powder, cocoa powder, soy milk powder, Goat milk powder, fruit and vegetable powder, etc. This means that a wide range of materials can be filled using one machine and that cleaning the machine is easy and simple.
KEFAI Machine has fine workmanship, exquisite craftsmanship and strict control of every process. Meanwhile, we have a wide range of different coffee capsule filling machine models. Automatic rotary coffee capsule filling machine, automatic linear coffee capsule filling machine, and so on. Please follow us to learn more information about these coffee capsule filling machines.
The Highest Recognition
KEFAI Machine offers a wide range of professional automatic coffee capsule filling machine lines and coffee capsule filling and sealing solutions. We can efficiently complete the design, manufacture, installation, commissioning and maintenance of complete filling packaging lines for various industries. With advanced technology and high quality equipment systems, KEFAI Machine exports its equipment to various countries and regions of the country to meet the different needs of the customers, and is well received by them. KEFAI Machine cooperates with many major international brands.
Excellent Quality
The coffee capsule filling machine is of stable quality and it uses a sealed design, which effectively eliminates the pollution of dust and other harmful substances in the air and the invasion of mosquitoes. Moreover, the machine is equipped with the best branded accessories, the air pressure gauge and valve are of good quality. Also, the coffee capsule filler is made of excellent material, high hardness and toughness, which can be used for a long time; the surface of the body is smooth and burr-free, safe and reliable.
Product Section
We assure that all the coffee capsule fillers are of superior performance.
Although a semi automatic coffee capsule filling machine is more labour intensive, it is cost less. However, the fully automatic one is easy to install and owns stable performance.
Unlike linear filling machines, this type of coffee capsule filling machine takes up less space. The rotary coffee capsule filling machine is one of our most popular and hot sale machines.
KEFAI Machine can provide you with linear multi lane coffee capsule filling machines, including two lane and six lane machines. It is extremely conducive to speeding up production efficiency.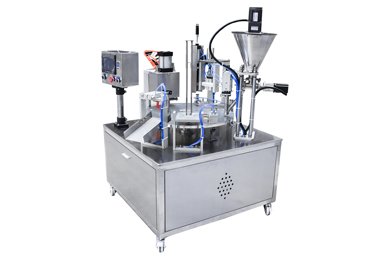 The 5g coffee capsule dosing machine is sealed in an aluminium capsule and the capsule is filled with a non-toxic, inert gas, which has the effect of extending the shelf life.
The 10g coffee capsule filling machine is used for coffee powder, with the addition of a vacuum device to maintain in an aseptic environment.
The 20g coffee capsule filling machine is an automatic wrapping machine for coffee powder. It is a machine suitable for various powder materials.
Information about Coffee Capsule Filling Machine
Listening to Our Customers
"I had two coffee capsule filling machines customised by KEFAI Machine. It is a very good machine which is very convenient for us and has an automatic counting function, and you can adjust the weight of each packet by yourself at any time."
—— Mr. Eve, a customer from Sweden
---
"KEFAI Machine revised several options during the design of our filling line. We have also purchased an additional cartoning machine here. The salesman was very professional and so was the after-sales team."
—— Mr. Frank, a customer from the Dominican Republic
---
"The 5g coffee capsule filling machine works well, which is fully functional and saves time and effort, it is easy to operate and affordable, and is also very fast. The KEFAI machine is a guarantee of quality, and the coffee capsule filling machine price is cheap."
—— Mr. Tobi, a customer from Nigeria
Various Capsule Styles
We offer different cup styles, including K cup, round-bottom capsules, pointed-bottom capsules, flat-bottom capsules, semi-flat-bottom capsules and double round flat-bottom capsules.
Highly Automated
The coffee capsule dosing machine can automatically transfer materials to fill and fill coffee, and the machine is fully automatic, without manual participation in the operation.
Keep Fresh
The coffee capsule filling machine is equipped with a nitrogen flushing device, which automatically fills the cup, the barrel, and the product after filling with nitrogen once to ensure the freshness of the coffee food.
High Weighing Accuracy
Whether it is coffee powder, cocoa powder, milk tea powder, soy milk powder, medicinal powder or spice powder, this coffee capsule filling machine can accurately and quantitatively weigh the required grams.
Affordable Capsule Filling Machine Manufacturer and Supplier:
To ensure that you have a pleasant shopping experience, we only use packing materials from the highest-rated brands. KEFAI's filling and packing machines are versatile enough to handle any job you throw at them. Numerous industries find use for our packaging and filling machines, including the food and beverage sector, the medical sector, the chemical sector, the cosmetics sector, the pesticides sector, the pharmaceuticals sector, and so on. In addition, any packaging container type you could need can be provided.
What You Need to Know About Capsule Filling Machine Manufacturers:
Capsule filling machines are an essential tool for pharmaceutical and nutraceutical manufacturers who need to produce large quantities of capsules quickly and efficiently. These machines can fill capsules with a variety of powders and liquids and are available in a range of sizes and configurations. In this article, we will explore the different types of capsule filling machine manufacturers and their key features.
Manual Capsule Filling Machines:
Manual Capsule Filling Machine Manufacturers are typically used for small-scale production. They consist of a base, a powder plate, and a capsule plate. The operator places empty capsules on the capsule plate, fills the powder plate with the desired amount of powder, and manually fills each capsule with powder using a tamper.
Semi-Automatic Capsule Filling Machines:
Semi-automatic capsule filling machines are used for medium-scale production. They consist of a hopper, a dosing disc, and a capsule filling station. The hopper holds the powder or liquid, which is dispensed onto the dosing disc. The dosing disc then dispenses the correct amount of powder or liquid into each capsule, which is then sealed.
Automatic Capsule Filling Machines:
Automatic capsule filling machines are used for large-scale production. They can fill hundreds or thousands of capsules per minute, making them ideal for high-volume production. These machines use advanced technology to dispense and fill the capsules and can be customized to fit specific needs and requirements.
Capsule Filling Machine machine manufacturers can be customized to fit the specific needs of a business. Additional features that can be added to the capsule filling machine manufacturer include capsule polishing systems, which remove excess powder or debris from the capsules, and automatic capsule sorting systems, which sort the filled capsules by size or weight.
The Frequently Asked Questions about Capsule Coffee Filling Machine
What is the filling accuracy of your coffee capsule filling machines?
Our coffee capsule filler machines are accurate and basically error-free. We ensure that the weight error range is ±0.05g.
How do you ensure the quality of your coffee capsule filling machines?
We have a CE certificate and have passed the international safety standard test. We also have the SGS verification report which is certified by the international authority. These complete range of certificates guarantees the quality and reliability of the coffee capsule fillers we produce.
Can you offer me a high production coffee capsule filling machine?
Of course. We can offer multi lanes coffee capsule filling machines with exponentially faster speeds. We can customise a suitable coffee capsule filling solution for all your needs in detail.