Introduction to Candy Packing Machine
KEFAI Machine candy packaging machine is a machine that can quickly package candies in batches. In the same way, it is suitable for packing all kinds of regular objects such as biscuits, rice noodles, snow cakes, egg yolk pies, chocolate, bread, instant noodles, moon cakes, medicines, daily necessities, industrial parts, cartons or trays.
KEFAI Machine candy packing machines range from semi-automated packaging, fully automated packaging, to multi-functional cotton candy packaging machines. Candy chocolate packaging has three main roles: to protect the luster, fragrance, shape and prolong the shelf life of products, to prevent microbial and dust pollution, improve product health safety and to improve consumers' desire to buy.
Best Supporting in Candy Packaging
KEFAI Machine's packaging machines are widely used in different fields around the world, such as food, industrial food, pharmaceuticals, hotel supplies, disposables, hardware accessories, toys, etc.
KEFAI Machine owns over 10 years of experience in foreign trade and export, and now we have customers in every country of the world. With our high quality machines and professional service, we have won the unanimous praise of customers. Please contact KEFAI Machine customer service staff right now.
Professional and Strong Team
KEFAI Machine has a professional team that can provide customers with a variety of packaging solutions. After fully understanding customer needs, we provide customers with the most appropriate packaging solutions. And then we start to manufature machines.We have strong production and processing capacity, from accessories customized processing to product assembly and commissioning the machine. Finally, in terms of  packing and shipping, and it takes just a week to complete.
Product Section
We are commited to offering the most prominent candy packaging equipment.
This kind of package can be a small bag for only one piece of sugar or a package of sugar. With the sawtooth bag, it is easy and convenient to tear the bag.
A small amount of candy can be weighed in a bag, and the self-supporting bag can stand on the shelf so as toimprove the aesthetic degree.
It is a good choice for the sale of this candy in small grocery stores, customers really need many bags that can be directly ripped off at one time.
This type of the candy pouch packing machine is an integrated muti-functional candy pillow packing machine, which is fully automatic for regular shape materials like candy.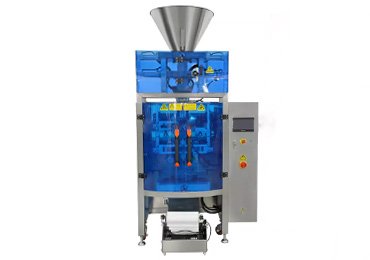 It is suitable for doypack pouch packaging type. With auto feeding, auto weighing and filling, auto bag taken and sealing function to pack ice candy packing machine.
Information about the Candy Packing Machine
What Our Customers Say
"If your product needs packaging, need to buy packaging machine, please choose KEFAI. Kefai machine has surprised me so much, you can always trust their technology, trust their professional team. Not only the service is in place, but also the product quality is good. Kefai machine's products, who used it would say great. I sincerely recommend KEFAI Machine's products to others voluntarily."

——Kenny, a customer in Canada
---
"I love Kefai's machines very much. You wouldn't believe how unexpectedly satisfying KEFAI's products are. Kefai machine gave us a lot of help, and as it turns out, they were right. I really want to thank Kefaimachine for helping me so much. Here upon is my cordial gratefulness."

——

Jeff, a customer in Denmark
---
"I need an automatic candy filling packing machine to pack our products. Then we see Kefai machine has candy packing machine for sale. And we ask the peanut candy machine price that is in line with our expectation. I will introduce KEFAI Machine packing machine to others."

——Mortimer,a customer in Norway
Operating Smoothly
The candy packing machine has stable performance, safe operation and powerful functions.
Precise Packaging
The superscript highly sensitive photo eye tracks the precise position, making the closure more accurate.
Digital Operation
Our candy packing machine is equipped with an imported electrical control system, LCD screen display, simple parameter setting.
High Precision
Our candy packing machine can realize automatic feed speed tracking, automatic acceleration and deceleration.
The Frequently Asked Questions about Candy Packing Machine
Is there any information I should give you when quoting?
Please inform us of the following packing details when you quote, so that we can check whether this model is suitable for you.
1. Product details
2. Bag width, bag length (similar to the picture), package product size
3. Bag shape
4. Packaging film Material
How about your quality assurance?
All our machines are guaranteed for one year, and all the machine parts can be replaced free of charge within one year if they are damaged (not including manual injury). And we provide lifelong after-sales service.
How do we choose the machine type for our bags
Please provide us with the following information about the bags and the goods.
1) Bag pattern (please provide sample or picture of bag.)
2) Bag size
3) Fill weight or volume
4) Product materials: powder/liquid/paste/granule