Bottle Labeling Machine
Accurate:We focus on enhancing the details of each component of the labeling machine, so we have a high-precision labeling machine with a range error of ±0.5mm.
Professional: We are increasing investment in the research and development of new products every year to obtain better and more advanced labeling machines.
Cost Saving: The bottle label machine can completely replace labor, which greatly saves costs while improving the labeling production efficiency.
Simple Adjustment: Various functions can be switched, and the labeling of different styles ofn bottles can be easily and quickly replaced.
Product Section
This is a manual labeling machine for bottles. It has a small structure and takes up less space. The labeling is very neat, no wrinkles, and no bubbles.
It is a labeling machine suitable for round bottles, which can say goodbye to manual operation and automatically and quickly label.
Just put the bottles into the transmission belt, the machine can automatically track the bottles to complete the labeling work.
Tabletop type labeling machine is a small model, you can easily use this machine on a table or table. It can also be used in desktop conveyor belt production lines.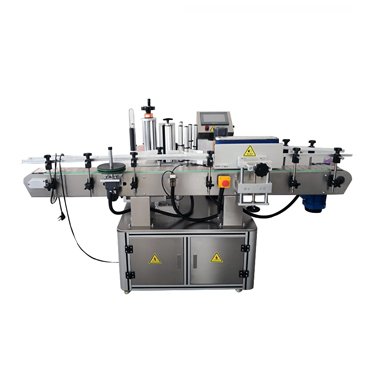 This is the most common and popular bottle labeling machine, which has stable function can full automatically and quickly label bottles in all or half directions.
The self-adhesive labeling machine adopts horizontal labeling method, which is suitable for labeling cylindrical objects with small diameters that are not easy to stand.
Description
Packaging Examples
The bottle labeling machine has a wide range of applications and can meet the labeling of various bottles of different sizes. It can be applied to the labeling of beverages, toiletries, medical supplies, cosmetics, and daily chemicals. You can use our label machine for bottles like plastic bottles, nail polish bottles, cosmetic bottles, essential oil bottles, water bottles, shampoo bottles, wine bottles, etc.
KEFAIMACHINE has many types of label machines for bottles. Whether you need a round bottle labeling machine or a square bottle labeling machine, we can all have the right machine for you. If you need an automatic bottle labeler machine, you should communicate with us most. KEFAI Machine can offer you the best bottle labeling solution.
Top Option for Labeling Machine
Our fully automatic labeling machine can be used in a production line with other machines which has great help to your production. KEFAI Machine has produced a wide range of practical labeling machines through quality selection of materials. KEFAI Machine's label machine for bottles has many advantages. And we have multiple quality inspections and layers of checks before shipment. Our professional team is online 24 hours a day, can reply to messages in time, and provide the most intimate service. Then, we provide customized technology, and the machine can be customized according to your needs.
Totally Guaranteed
We strengthen pre-sales and after-sales service for customers to purchase our bottle labeling machines, and we provide lifetime technical support for our bottle labeling machinery. We can provide technical support for the products you purchase, and solve all difficult problems such as installation and use. And the products you purchase have a one-year quality assurance. We hereby guarantee that if the machine you purchase has any problems caused by non-human factors during the year, we can replace parts and components for you free of charge.
The Frequently Asked Questions about Bottle Labeling Machine
What is the general process of customizing a bottle labeling machine?
First of all, you can consult us first, and we will design a suitable customized solution according to your production needs. Then after calculating the price, we can debug the production machine after making the advance payment. Finally, after completing a series of quality tests without any problems, it can be shipped to your area.
How will you package the machine for shipment to me?
We will use stretch film for multi-layer winding and packaging of the finished machine and package it for shipment. We will put the packaged machine in a stable wooden box to strengthen the packaging, which can easily withstand any impact received during transportation.
What should I do if there are wrinkles and air bubbles after labeling?
Please readjust the scraping brush to increase or decrease the power of the scraping brush, or change the angle of the scraping to eliminate wrinkles on the label.
Can your automatic bottle labeling machine be connected to a production line?
Yes, our fully automatic bottle labeling machines can be used not only individually but also in conjunction with production lines.