Bottle Filling Capping Machine
Reasonable Price: Our price of bottle filling and capping machine will not be too expensive, so that our customers can afford it with pleasure.
Customization available: KEFAI supports the customization of bottle filling capping machines to your unique needs.
Excellent Quality: We ause excellent stainless steel material to make the machine, and theose customers who have used our machine products say the quality of the machine is very good.
Highly efficient and stable: The number of work stations is large and the production speed is fast, which can meet the production demand.
Product Section
KEFAI semi automatic bottle filling and capping machine is more convenient and fast than manual operation. This machine is sure to be a good helper in your production process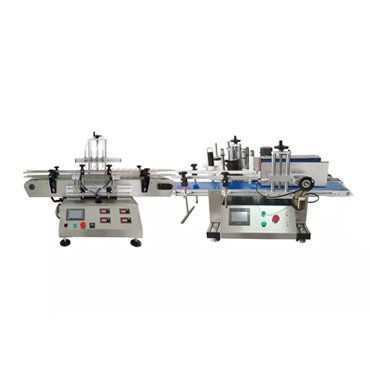 It is a desktop water bottle filling and capping machine. The bottle filling capping equipment is very small in size and light in weight, and you can easily use and operate it on the tabletop.
The glass bottle filling and capping machine has a high degree of automation andgood stability. It is equipped with a lid feeder, which can automatically send the lid.
he PET plastic bottle filling and capping machine is used in the field of drinking water, fruit juice, and carbonated beverages. This machine can produce products effectively and quickly.
This is a turntable type filling and capping machine, which is suitable for filling and capping small bottles like test tubes and nail polish bottles. It is a three-in-one filling,  production line.
Description
Filling&Capping Samples
The bottle filling and capping machine has the function of automatically completing the filling of bottles and capping of bottles. It is suitable for various industries, such as beverage, sauce, cosmetics, pharmacy, etc. What's more, it is a great choice for filling production equipment and fully complies with GMP requirements.
KEFAI Machine has many types of bottle filling capping machines. In addition, we also have automatic bottle filling capping labeling and sealing machine to form a bottle production line. It has the characteristics of no bottle and no filling. The machine has a scientific structure and can be used as an independent machine or in combination with a production line.
Direct Connection to Factories
KEFAI Machine is a bottle filling capping machine factory, and we are a modern enterprise integrating R&D, production, design and sales. We have won the trust and praise of users with excellent product quality, reasonable prices, beautiful appearance and perfect after-sales service. It is an honor to cooperate with you, and I hope that our bottle filling and capping machines can achieve all your expectations 100%. We also provide a bottle filling capping and labeling machine if you want which will saves you the time and effort of looking for another machine. So please feel free to contact us.
Integrated Solutions
In addition to the 3 in 1 machine used separately, the filling and capping machine can be used separately in connection with other machines. The bottle filling capping machine can be automated to support the whole line output. KEFAI bottle filling capping machine can not only be used alone, but also form an organic whole with other machines, which can accelerate production progress and improve production efficiency. KEFAIMachine bottle filling and capping machine can be integrated with other machines that can be used independently.
The Frequently Asked Questions about Bottle Filling Capping Machine
How can I send my inquiry to you about the bottle filling capping machine?
You can contact us by email, phone, instant messenger (Whatsapp/phone/wechat), etc. And please remember to tell us the detailed information about your production.
How can I trust the quality of your bottle filling and capping machine?
We have complete working rules and strictly follow the production process. Our R&D and production workers are very experienced, and our machines are certified by CE and other certifications are enough to guarantee the quality of the machines.
What is the height and width of the bottles that your machine can seal?
This parameter varies from machine to machine. For example, a small bottle fast continuous filling and capping machine can seal bottles from 25mm to 110mm in width and 50mm to 180mm in height. For the rest of the machines, please consult our customer service.