Bagging Machine
Powerful Construction: With a strong and stable mechanical structure, the automatic bagger machine is also compatible with large materials.
Abundant Categories:

The wider the range of machines, the more options you have. There are a great number of styles and models of bagging machines.
Superior Performance: Our bagging machine has a motor of extremely high efficiency and is strong enough to prevent the motor from being burned out due to excessive temperature.
Handy & Convenient: The whole bagger machine is designed with a compact structure, and the equipment dose not have small footprint and it is convenient to conduct maintenance.
Product Section
KEFAI 5-25kg bagging machine is quite suitable for the enterprises that require large production capacity and high capacity. It adopts a traditional heat sealing method.
KEFAI 25-50 kg bagging machine is quite easy to operate, and there is no need to set parameters when changing different bag specifications, which are the obvious advantages of its own.
KEFAI ton bag bagging machine can encapsulate a variety of powdered materials and granular materials such as coffee powder, frozen food, animal feed, seeds, chemicals, and so on.
KEFAI tea bagging machine can achieve the same length of bagging, no empty material at the mouth of the bag, and no surplus material at the discharge port.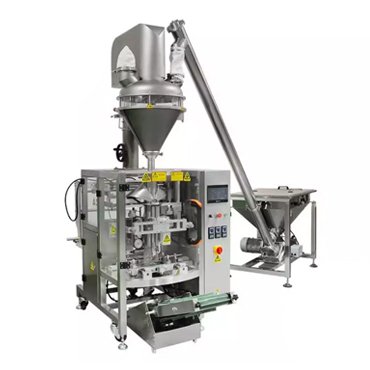 KEFAI coffee bagging machine has built-in anti-clamping device, which is relatively safe, especially for protecting workers fromm injury.
KEFAI sand bagging machine should sieve the raw materials to avoid the mixing of the agglomerated raw materials and the lumps, rods, etc.
Description
Packaging Example
KEFAI bagging machine is a big bag packing device used for large quantities of materials. The bagger machine is able to be applied in food industry, daily chemical industry, medical industry, cosmetics industry, hardware industry and so on.
Our bagging machine has a simple and convenient installation and use. The parts of the bagger equipment in contact with the material are made of high-quality food grade stainless steel to ensure the safety and hygiene of the product. As a specialist in bagging machines, you can rely on us unconditionally, and one-stop service can be provided immediately. You will never get an inflated bagging machine price in KEFAI Machine.
Top Option for Bagging Machine
KEFAI packaging machines have passed the European Union CE international safety system certification.our packing machines has also obtained a series of patent certificates. Therefore, there is no doubt that we can realize the independent research and development and manufacture of products. KEFAI Machine possesses a standard workshop, in which you can visit the factory at any time to experience the operation process of our bagging machines. Our engineers are also available to answer all of your questions on site. The number of automatic bagging machine for sale can fit your requirements.
More Worry-Free System
KEFAI Machine is a leader among the automatic bagging machine manufacturers in the market. There are a variety of working states to choose from, which can be changed arbitrarily with one key. Our bagging machines have functions such as zero-setting and zero-point automatic tracking. Besides, the total weight of the package and the number of bags can be easily counted and then displayed on the touch screen. The bagger equipment is highly adaptable to consumables and is compatible with both higher-cost and lower-cost materials. You don't have to intermittently shut down the bagging machine when weighing products because it supports continuous weighing.
Quality Bagging Machine Manufacturer in China:
Bagging Machine Manufacturers are an essential component of many manufacturing processes. These machines are designed to fill and seal bags with a range of products, including powders, granules, liquids, and solids. They are commonly used in industries such as food and beverage, agriculture, and manufacturing to package products for distribution and sale.
Bagging Machine Manufacturers come in a variety of shapes and sizes, from small tabletop models to large industrial machines. They use different technologies and methods to fill and seal bags, including vertical form-fill-seal machines, horizontal form-fill-seal machines, and open-mouth bagging machines.
Uses of Bagging Machine Manufacturer:
Vertical form-fill-seal machines are commonly used in the food industry to package products such as snacks, candy, and frozen foods. These machines create bags by forming a tube from a roll of packaging film, filling the bag with the product, and then sealing the bag. They are fast and efficient and can produce a large number of bags in a short amount of time.
Horizontal form-fill-seal machines are commonly used in the packaging of liquids, such as sauces, oils, and beverages. These machines use a horizontal conveyor to move the packaging film through the machine, and then fill and seal the bags. They are designed to handle liquids,
and can fill bags with a range of volumes and viscosities.
Benefits:
In addition to their efficiency benefits, Bagging Machine Manufacturers also help to improve the quality and consistency of the packaging process. They are designed to ensure that each bag is filled with the correct amount of product and that the bags are sealed properly to prevent leakage and contamination. This helps to improve the overall quality of the product and ensures that it meets the standards and regulations of the industry.
Bagging Machine Manufacturers is an essential component of many manufacturing processes. They offer a range of benefits, including increased efficiency, improved accuracy, and reduced labor costs. With advances in technology and the development of new materials, Bagging Machine Manufacturers are likely to continue to evolve and provide manufacturers with even more options for packaging their products.
The Frequently Asked Questions about Bagging Machine
Can I know the material type of the bagging machine?
Actually, the bagging machine is capable of plenty of materials, almost every field is contained. But one point you should keep in mind is that it is specially designed for large packaging.
Can you describe the degree of automation of the bagger machine?
We can provide you with machines with different levels of automation like semi-automatic bagging machine and fully automatic bagging machine. The semi-automatic one requires manual assistance, while the fully automatic one can achieve unmanned goals.
What should be paid attention to when overhauling the bagging machine?
Do not overhaul the equipment when the motor or power supply is turned on, in case of electric shock or personal injury.